Abraham Cruzvillegas
27 Sep - 20 Nov 2011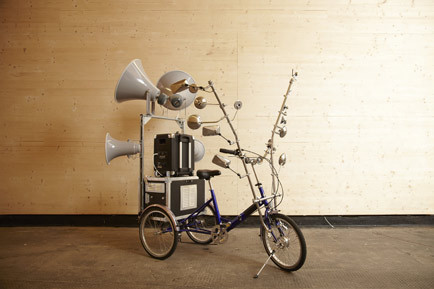 © Abraham Cruzvillegas
The Simultaneous Promise, 2011
Tricycle, portable PA, horn speakers, amplifier, car battery, metal tubing and mirrors.
Commissioned by Modern Art Oxford. Installation view. Photography by Stuart Whipps
ABRAHAM CRUZVILLEGAS
Autoconstrucción: The Optimistic Failure of a Simultaneous Promise
27 September - 20 November, 2011

This autumn, Modern Art Oxford presents a major exhibition of new work by Mexican artist Abraham Cruzvillegas. The artist is best know for his his long-standing project, Autoconstruccion, in which he takes inspiration from the eclectic and improvisatory architecture of his childhood home in the area of Pedregales de Coyoacán, Mexico City. Autoconstrucción operates as a metaphor for individual identity and the identity of a place existing in a state of flux. Cruzvillegas' project is informed by ideas of 'survival economics' – how scarceness can lead to recycling and solidarity in opposition to consumption and individualism.
Over the last year, Cruzvillegas has explored aspects of Oxford and its history, including associations with science, literature, magic, ethnography, imperialism and politics to propose works that combine aspects of the local with his highly personal and poetic visual language.
Cruzvillegas has created a series of new works for Modern Art Oxford that respond to the diverse contexts of the city of Oxford and the artist's own personal background: The Optimistic Failure, a large-scale suspended sculpture in the form of a 'mobile', adorned with representations of Amazonian tsantsas (shrunken heads) made from animal dung, grass and soil collected from Port Meadow, Oxford; and The Simultaneous Promise, a mobile sculpture constructed from a tricycle and sound system that plays recordings of the artist's interpretations of songs from his childhood and new songs by Oxford bands. These commissions are presented alongside two other new works: Blind Self Portrait as a Post-Thatcherite Deaf Lemon Head. For 'K.M.', in which found paper items are layered in thick monochrome paint and pinned to the gallery walls in a geometric pattern; and Untitled Scratching Relief with Builders Groove 3, a drawing incised directly onto the walls of the Upper Gallery and inspired by the route explored by Cruzvillegas' during his visits to Oxford.

Abraham Cruzvillegas was born in 1968 in Mexico City, and lives and works in Mexico and Europe. Recent solo exhibitions include: Galerie Chantal Crousel, Paris (2010); kurimanzutto, Mexico City (2010); Thomas Dane, London (2009); Californian College of the Arts, Wattis Institute for Contemporary Arts, San Francisco (2009); Redcat, Los Angeles (2009); The Centre for Contemporary Arts, Glasgow (2008); Museo de Arte Contemporáneo de Oaxaca (MACO), Oaxaca, Mexico (2005).
He participated in the 10th Havana Biennal (2009), 50th Venice Biennial (2003) and the 25th Sao Paulo Biennial (2002). Cruzvillegas is currently presenting elements of the Autoconstrucción project on Level 5 at Tate Modern as part of the Energy and Process displays until March 2012.
Pedregales de Coyoacán is an area of Mexico City initially inhabited by migrants who moved in and set up squats in the city in the 1960s. Like many of their neighbours, Cruzvillegas' parents built their house themselves, modifying it over many decades – a process the artist terms autoconstrucción, or 'self-building'.