Shezad Dawood
05 Apr - 10 Jun 2012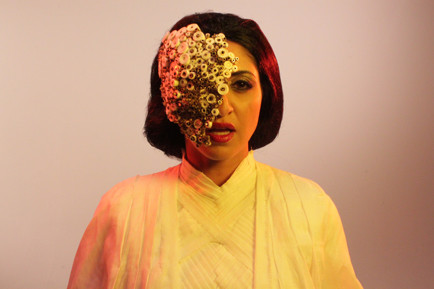 MASK (played by Houda Echouafni) giving orders to the aliens. Credit: Piercing Brightness by Shezad Dawood. Production Still, 2011. Courtesy of UBIK Productions Ltd. Photography: Richard Harrowing
SHEZAD DAWOOD
Piercing Brightness
5 April - 10 June, 2012

Modern Art Oxford presents a major solo exhibition of British artist Shezad Dawood (b. 1974). Incorporating film, painting and light sculpture, Dawood's practice creates discursive networks across parallel time frames, locations and communities. His works often include restaged and reimagined moments appropriated from multiple cultures and histories.
Referencing his frequent use of, and meditations on, light, time and montage (both as a cinematic and a painterly device) the exhibition at Modern Art Oxford will feature Dawood's most recent film and installation work, including the first UK presentation of New Dream Machine Project (2011), and a gallery installation of Trailer (2011). With this exhibition Dawood calls into question our attempts to reconcile the passing of time and the creation of identity in our own lives.
Trailer is an alternative edit from the artist's feature length film, Piercing Brightness, as a 15-minute, experimental "trailer." Presented in a purpose-built viewing space, Trailer plays on the spliced histories of structuralist film and mainstream science-fiction as a prism through which Dawood furthers his long standing interest in ideas relating to race and migration.
New Dream Machine Project comprises a large-scale kinetic light sculpture and Super 16 mm film. Referencing Brion Gysin's original Dream Machine – a work conceived to have an effect on the viewer similar to deep meditation or dream sleep – New Dream Machine Project acknowledges Gysin's influences, especially Sufism and Moroccan culture in 1960s Tangiers, and reimagines these historical narratives for a contemporary audience.
Often acting as research tools and storyboards for his film works, as well as a parallel investigation into form, context and meaning, a selection of the artist's textile-based paintings and neon sculpture will also be presented at Modern Art Oxford.
The Piercing Brightness exhibition also sees the publication of the first major monograph of Shezad Dawood's work, published by Modern Art Oxford/Koenig Books, London, and including texts by Mark Bartlett, Jean Fisher and Michael Stanley, Director, Modern Art Oxford.
The exhibition, Piercing Brightness is a collaboration between Modern Art Oxford, Harris Museum & Art Gallery, Preston, Newlyn Art Gallery & The Exchange, Cornwall and KINOKINO Centre for Art & Film, Norway.
The film, Piercing Brightness was commissioned by In Certain Places in association with Modern Art Oxford and with the further support of Harris Museum & Art Gallery, National Lottery through Arts Council England, Preston City Council, Preston Guild 2012, Outset Contemporary Art Fund, London 2012 Festival and Cultural Olympiad using funds from the National Lottery, Lancashire County Council, University of Central Lancashire and Abandon Normal Devices Festival.

Shezad Dawood

Shezad Dawood was born in London in 1974. He works across various media and much of his practice involves collaboration, frequently working with other artists to create unique networks around a given project or site. These networks map across different geographic locations and communities and are particularly concerned with acts of translation and restaging. For example, his collaborative film project, Feature (2008), which relocated the action of a traditional western to the English countryside, slipping into other sub-genres such as the zombie-flick, Wagnerian opera and South Asian god-flick (and features cameos from artists Jimmie Durham and David Medalla).