Inbox: Jasper Johns
18 Mar - 07 May 2017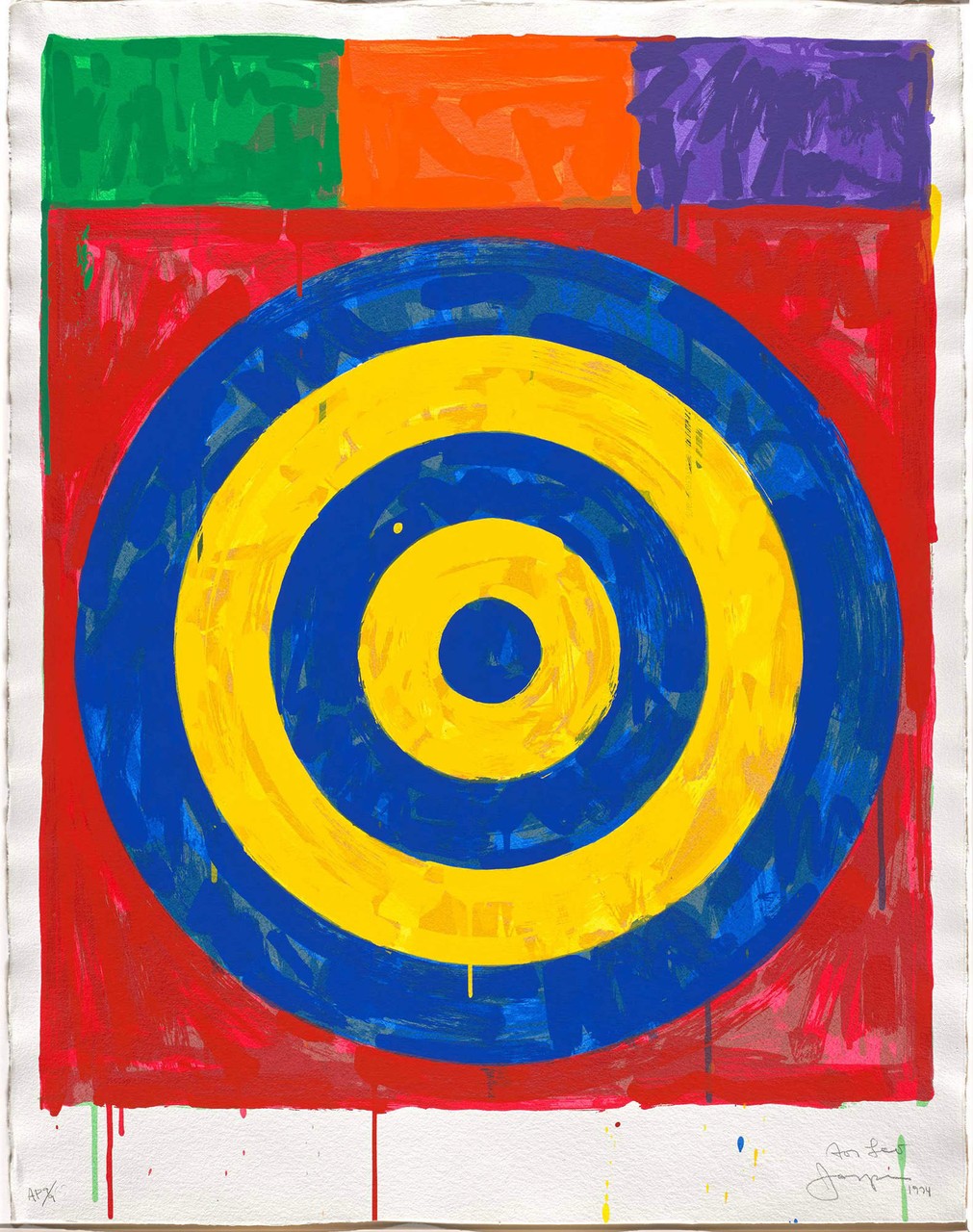 Jasper Johns. Target. 1974, Screenprint. Publisher: the artist and Simca Print Artists Inc., New York. Printer: Simca Print Artists Inc., New York. Edition: proof outside the edition of 70. © 2017 Jasper Johns/Licensed by VAGA, New York
These seven prints by Jasper Johns are among the artist's most innovative works in the medium and contain iconic elements
of his repertoire: American flags, a target, Ballantine ale cans, and an allover crosshatch motif. Each of these subjects "isn't designed, but taken," as Johns puts it; he excerpts these images directly from the world and repeats them again and again with variations, a practice that aligns naturally with the iterative logic of printmaking. "Primarily, it's the printmaking techniques that interest me . . . the technical innovation possible," the artist has said. "Whatever you think the medium is you find out it isn't
so you try to test it some other way." Three of the works in this group were produced using the screenprinting technique, in which ink is pressed through unblocked areas of stretched fabric that functions like a stencil; they were made in collaboration with a group of Japanese master printers at the workshop Simca Print Artists Inc., New York. Though Flags I was one of Johns's earliest screenprints, it is unusually elaborate, assembled through an extensive process involving thirty-one separate screens printed in succession in fifteen colors. The other four, a rare group of Ale Cans, are lithographs—prints made from a smooth stone
or metal plate on which an image has been drawn using greasy crayon or liquid—produced with Gemini G.E.L., a Los Angeles print workshop where Johns has regularly worked since the late 1960s. They are all gifts of Barbara Bertozzi Castelli, the widow of Leo Castelli, the influential dealer who shaped postwar American art and gave Johns his first solo exhibition in 1958.

Organized by the Department of Drawings and Prints.