James Lee Byars
17 Aug - 07 Sep 2014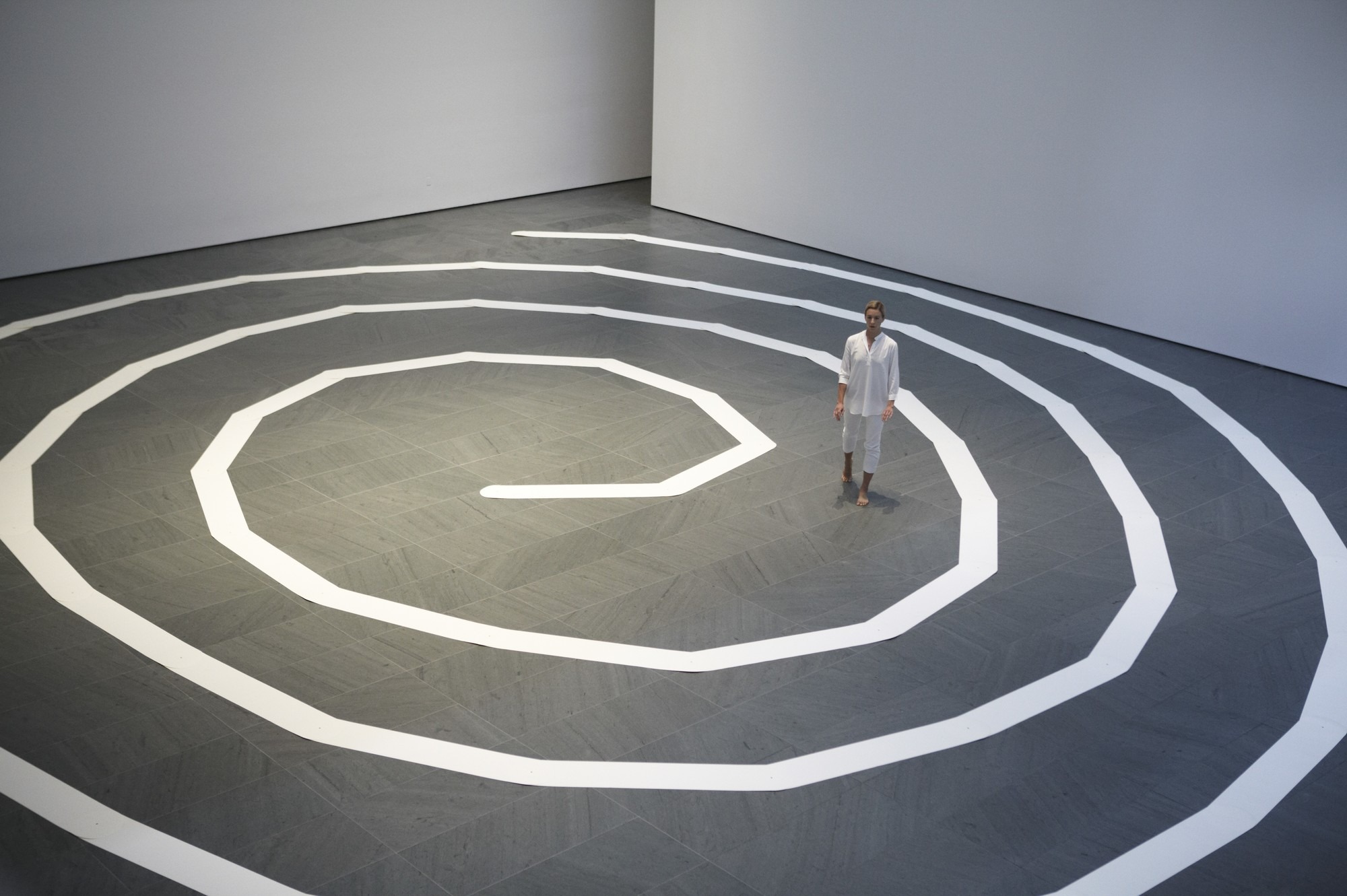 "The Mile-Long Paper Walk," from the performance, "James Lee Byars: A Series of Performances,"
in conjunction with the MoMA PS1 exhibition, "James Lee Byars: 1/2 An Autobiography"
performance: August 17, 2014; exhibition: June 15, 2014–
September 7, 2014. IN2292A.1. Photograph by Julieta Cervantes.
The Department of Media and Performance Art, in collaboration with MoMA PS1, is pleased to present several of James Lee Byars's most influential performance works. Byars (Detroit, 1932–Cairo, 1997), one of the most mythic artistic figures of the last century, shaped his persona and career into a continuous performance. Transfixed by the idea of perfection, Byars produced a remarkable body of work—including sculptures, fabric costumes, "performable" paper pieces, film, ink paintings, correspondence, ephemera, and live performances—that strove to give form to his search for beauty and truth. Pursuing what he called "the first totally interrogative philosophy," he attempted to delineate the limits of our knowledge while enacting a desire for something more.

In conjunction with the exhibition James Lee Byars: 1/2 an Autobiography, on view at MoMA PS1 through September 7, 2014, this series of performances will take place at MoMA, referencing Byars's early history with the Museum. Byars's relationship with MoMA began in 1958, following an encounter he had with a Mark Rothko painting in his native Detroit. Impressed, he hitchhiked to New York, hoping to meet the artist. Byars arrived at MoMA and asked for Rothko's contact information; amused, the receptionist phoned curator Dorothy C. Miller, who came down to meet Byars, at which point he reportedly convinced her to allow him to hold a temporary exhibition in a stairwell at the Museum. Thus began a lengthy correspondence between Byars and Miller, in which the artist proposed ideas for actions or displays he hoped to realize at the Museum, including those involving a group of performable paper works that he gave to the Museum in 1966.

Byars had moved to Kyoto in 1958, and spent nearly a decade there, periodically leaving for Europe or the U.S. to pursue various opportunities. Influenced by aspects of Japanese Noh theater and Shinto ritual, he created and performed folded paper works at sites ranging from Japanese temples to New York galleries, and made fabric "costumes" intended to join together two or more people in public performances. Byars aimed to explore social behavior, explaining, "I want people to come and develop an awareness about their perceptions, their behavioral cycles, what they eat, their lifestyle."

Straddling apparent contradictions—the universal and the personal, the luxurious and the minimal, the relic and the live event, the spectacular and the invisible—Byars's work suggests that one can find perfection both at the most evanescent edges of form and in the acute moments of attention spent trying to discern it. The majority of the performances in this series were developed with ephemerality in mind. As such, though many of the constituent parts remain the same as when they were first presented, nothing should be considered a "repeat performance." Rather, in Byars's fashion, each can be read as an inimitable event, unique in space and time.

The Performance Program is organized by Ana Janevski, Associate Curator, with Leora Morinis, Curatorial Assistant, Department of Media and Performance Art, The Museum of Modern Art.

Organized in collaboration with Peter Eleey, Curator and Associate Director of Exhibitions and Programs, with Jocelyn Miller, Curatorial Assistant, MoMA PS1.