León Ferrari and Mira Schendel
Tangled Alphabets
05 Apr - 15 Jun 2009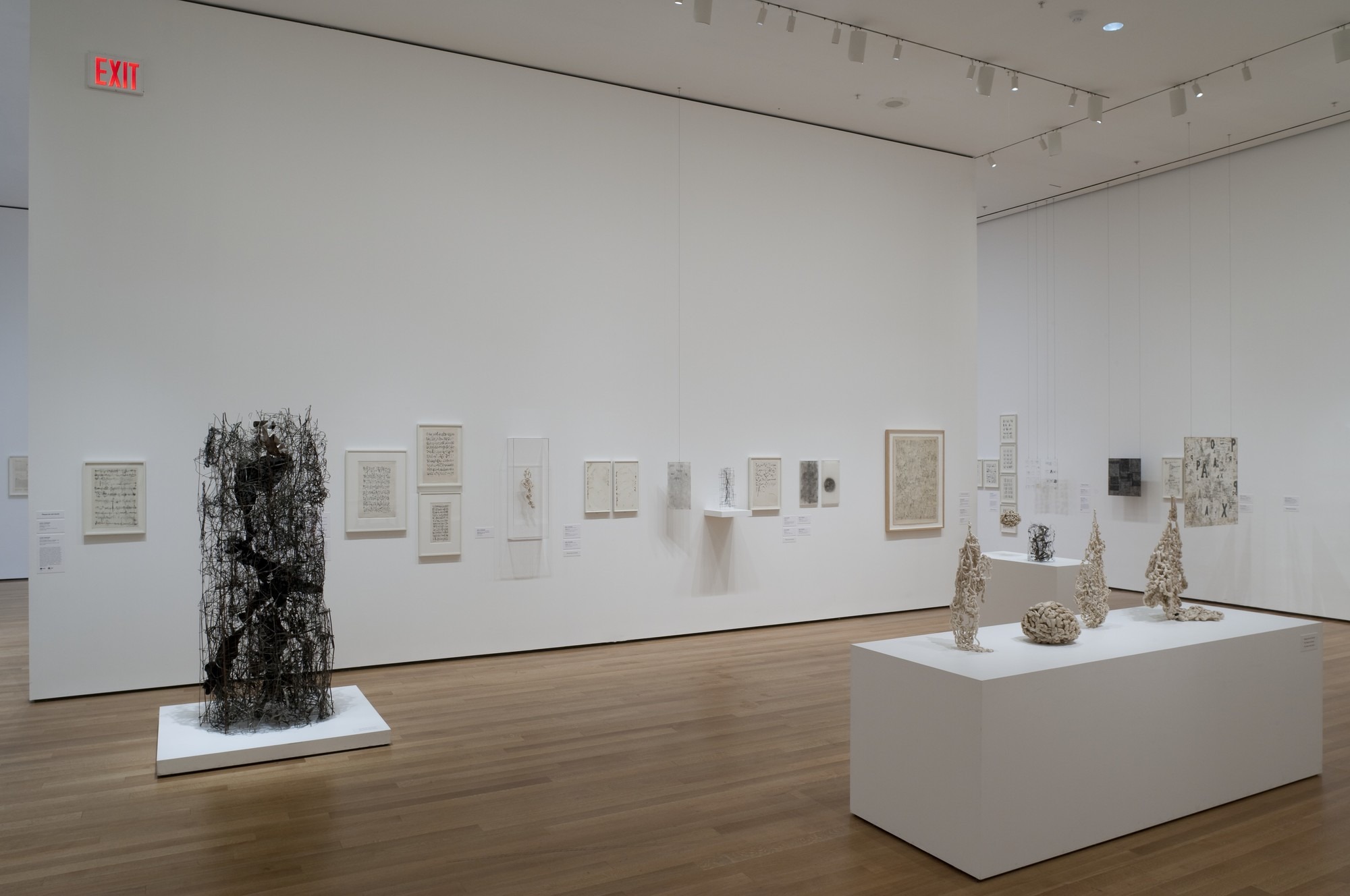 Installation view of the exhibition, "Tangled Alphabets: León Ferrari and Mira Schendel"
April 5, 2009–June 15, 2009. IN2074.11. Photograph by Jonathan Muzikar
The International Council of The Museum of Modern Art Exhibition Gallery, sixth floor

León Ferrari (Argentine, b. 1920) and Mira Schendel (Brazilian, b. Switzerland, 1919–1988) are considered among the most significant artists working in Latin America during the second half of the twentieth century. Their works address language as a major visual subject matter: the visual body of language, the embodiment of voices as words and gestures, and language as a metaphor of the worldly aspect of human existence through the eloquence of naming and writing. They produced their works in the neighboring countries of Argentina and Brazil throughout the 1960s and 1980s, when the question of language was particularly central to Western culture due to the central role taken by post-structuralism, semiotics, and the philosophy of language. Although their drawings, sculptures, and paintings are contemporary with the birth of Conceptualism, they are distinctively different, and have not yet been exhibited in their entirety in the United States.

The exhibition is organized by Luis Pérez-Oramas, The Estrellita Brodsky Curator of Latin American Art, with the assistance of Geaninne Gutiérrez-Guimarães, The Museum of Modern Art.

The exhibition is made possible by Agnes Gund, The International Council of The Museum of Modern Art, Mimi and Peter Haas Fund, Jerry I. Speyer and Katherine G. Farley, and Estrellita B. Brodsky.

Generous support is provided by Nelly Arrieta de Blaquier, Beatriz and Andrés von Buch, The Bruce T. Halle Family Foundation, Marie-Josée and Henry Kravis, David Rockefeller, and Fundación Cisneros/Colección Patricia Phelps de Cisneros with additional funding from Clarissa Alcock Bronfman, Mr. and Mrs. Eduardo F. Costantini, Andrea and José Olympio da Veiga Pereira, Safra National Bank of New York, Alvaro Saieh Bendeck, Diego Costa Peuser, Mr. and Mrs. Antón Apostolatos, Leopoldo Rodés and Ainhoa Grandes, Mr. and Mrs. Guillermo Cisneros, Marieluise Hessel, Mr. Nicholas Griffin and Mrs. Adriana Cisneros de Griffin, Eva Luisa Griffin, and Tomás Orinoco Griffin, Mrs. Yvonne Dadoo de Lewis, Sharon Schultz Simpson, TEN Arquitectos/Enrique Norten, and Milú Villela.

The accompanying publication has been prepared with the assistance and support of Charles Cosac and Michael Naify.