Performance 7: Mirage by Joan Jonas
18 Dec 2009 - 31 May 2010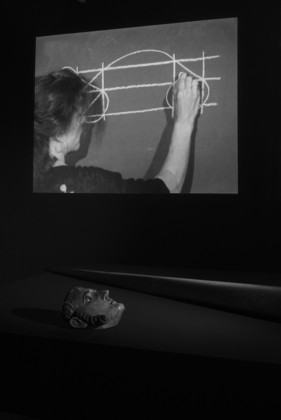 Joan Jonas
Mirage (installation detail). 1976/1994/2003. The Museum of Modern Art, New York. Gift of Richard Massey, Clarissa Alcock Bronfman, Agnes Gund, and Committee on Media Funds. Courtesy Yvon Lambert, Paris and New York
PERFORMANCE 7: MIRAGE BY JOAN JONAS

December 18, 2009–May 31, 2010

The Yoshiko and Akio Morita Media Gallery, second floor

Part of the Performance Exhibition Series

Inspired by a trip the artist took to India, Joan Jonas's Mirage (1976/2005) was originally conceived as a 1976 performance for the screening room of New York's Anthology Film Archives. In it, Jonas carried out a series of movements, such as running as a form of percussion and as gestural drawing, while interacting with a variety of sculptural components and video projections. In 1994, the artist repurposed these elements—metal cones suggesting the form of volcanoes, videos of erupting volcanoes, wooden hoops, a mask, photographs, and chalkboards, among other items—as a discrete installation, which was itself reconfigured in 2005. At MoMA, the artist once again reimagines the work in an installation that combines elements of ritual, memory, repetition, and rehearsal with games, drawn actions, and syncopated rhythms.

The exhibition is organized by Barbara London, Associate Curator, Department of Media and Performance Art.

The Performance Exhibition Series is made possible by MoMA's Wallis Annenberg Fund for Innovation in Contemporary Art through the Annenberg Foundation.