Picasso
24 Mar - 06 Sep 2010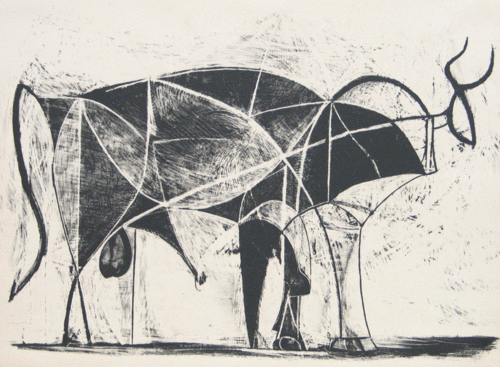 Pablo Picasso
The Bull, state VII (Le Taureau). December 26, 1945
Lithograph
Composition 12 x 17 1/2" (30.5 x 44.4 cm). Sheet 12 15/16 x 17 1/2" (32 x 44.4 cm)
The Museum of Modern Art. Mrs. Gilbert W. Chapman Fund. © 2009 Estate of Pablo Picasso/Artists Rights Society (ARS), New York
PICASSO
"Themes and Variations"

March 24, 2010–September 6, 2010

Featuring approximately one hundred works, Picasso: Themes and Variations explores Pablo Picasso's creative process through the medium of printmaking, tracing his development from the early years of the twentieth century, with depictions of itinerant circus performers in the Blue and Rose periods, to his discovery of Cubism. The exhibition follows his evolving artistic vision through decades of experimentation in etching, lithography, and linoleum cut, demonstrating how each technique inspired new directions in his work. A focus on specific themes demonstrates how Picasso's imagery went through a constant process of metamorphosis. Printmaking, in particular, allows this fundamental aspect of his art to become vividly clear, since various stages in building a composition can be documented. One series of lithographs shows Picasso progressing, step-by-step, from a realistic depiction of a bull to one that is completely abstracted in simple, schematic lines. Other examples reveal changing interpretations of the women in Picasso's life, as they became the subject of his art and the catalytic force behind his creativity.

In conjunction with this exhibition, MoMA will launch a major online project featuring its collection of over one thousand etchings, lithographs, and linoleum cuts by Picasso, allowing this extraordinary group of works to reach a global audience. Digital images of these prints will be available online and, in many cases, will be accompanied by interpretive texts.

Organized by Deborah Wye, The Abby Aldrich Rockefeller Chief Curator of Prints and Illustrated Books.