Production-Reproduction
The Circulation of Photographic Modernism, 1900–1950
12 Dec 2014 - 30 Mar 2015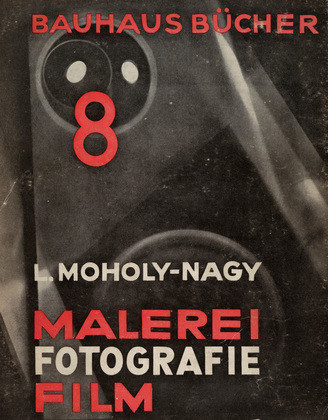 László Moholy-Nagy
Painting, Photography, Film (Malerei, Fotografie, Film). Munich: Albert Langen Verlag, 1925
The Museum of Modern Art Library, New York.
In July 1922, the artist László Moholy-Nagy published the article "Produktion-Reproduktion" in the Dutch journal De Stijl, identifying a turning point at which photography and film transcended conventional functions of reproduction and documentation to "produce new, as yet unfamiliar relationships." This idea is manifested in the Museum's Thomas Walther Collection, on view in the exhibition Modern Photographs from the Thomas Walther Collection, 1909–1949.

This collection has been studied in depth to tell the international story of photographic modernism not only through historical fact and provenance, but also through materiality, technique, and circulation. This exhibition, drawn entirely from the MoMA Library collection, explores the circulation of avant-garde photographs as reproductions in influential illustrated magazines, exhibition catalogues, and books in the first half of the 20th century, and how the dissemination of photography through printed materials was a crucial means through which modernist photographers formed an international network.

Organized by Ksenia Nouril, Research and Editorial Assistant, Thomas Walther Collection, Department of Photography, and Jennifer Tobias, Reader Services Librarian.