Projects 94: Henrik Olesen
09 Feb - 23 May 2011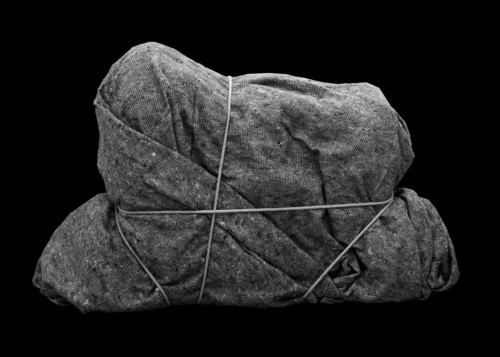 © Henrik Olesen
Imitation/Enigma (2). 2008
Box, adhesive tape, rope, padding material, and blanket
23 5/8 x 39 3/8 x 11 13/16" (60 x 100 x 30 cm)
Courtesy the artist and Galerie Daniel Buchholz, Cologne and Berlin
PROJECTS 94: HENRIK OLESEN

February 9 – May 23, 2011

Projects Gallery, second floor

In his conceptually rigorous and often witty work, Berlin-based artist Henrik Olesen (b. 1967, Esbjerg, Denmark) investigates structures of power and systems of knowledge to reveal inherent logics and rules of social and political normalization. Olesen's projects, based on in-depth research, have addressed a range of subjects including legal codes, the natural sciences, distribution of capital, and art history, and have taken the form of posters, fliers, text, collages, found-object sculptures, and spatial interventions. In past works, Olesen has compiled examples of "sodomy law" from around the world as testimony to the persistent criminalization of homosexuality; assembled a vast atlas of conspicuous and yet rarely acknowledged expressions of same-sex desire or affection in Western art history; and, most recently, created a historical and imagined portrait—in photo-text collages and sculptural objects—of British mathematician Alan Turing, who was persecuted for his sexual orientation despite his professional achievements and patriotic contributions. For Projects 94, Olesen presents a new site-specific work.
Organized by Doryun Chong, Associate Curator, Department of Painting and Sculpture.

The Elaine Dannheisser Projects Series is made possible in part by The Junior Associates of The Museum of Modern Art and the JA Endowment Committee.