Ramallah/New York
14 Feb - 18 Sep 2014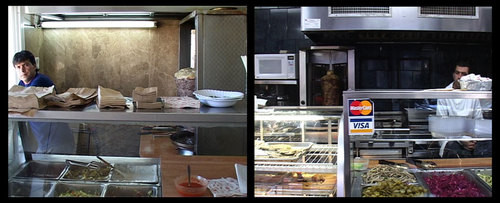 © Emily Jacir
Ramallah/New York. 2004–05
Two-channel video (color, sound), 38:50 min
The Museum of Modern Art, New York. Fund for the Twenty-First Century.
In conjunction with Documentary Fortnight, Emily Jacir's two-channel video work Ramallah/New York (2004–05), which is part of MoMA's collection, will be installed in The Ronald S. and Jo Carole Lauder Building lobby. Informed by the artist's experience of living in Ramallah and New York between 1999 and 2004, the work juxtaposes images of everyday interior spaces (e.g., travel agencies, hair salons, delis) in both cities to examine the transcendence of place beyond official borders.