Sculpture in Color
18 May 2009 - 18 Jan 2010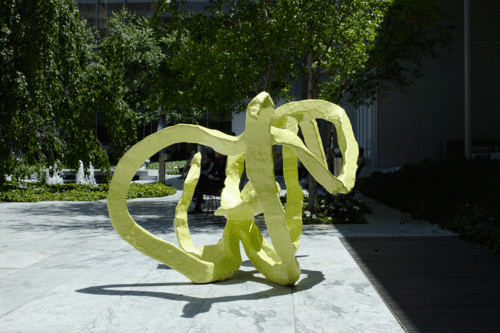 Installation view of Sculpture in Color. Shown: Franz West. Lotus. 2006. Polyester, 65 3/8 x 6' 10 5/8" x 9' 6 1/8" (166 x 210 x 290 cm). The Museum of Modern Art. Scott Burton Fund. Photo: Jason Brownrigg
SCULPTURE IN COLOR

May 18, 2009–Ongoing

This summer's installation in The Abby Aldrich Rockefeller Sculpture Garden celebrates the bold use of color in modern and contemporary sculpture. Highlights include Ellsworth Kelly's painted-aluminum Green Blue (1968), Anthony Caro's yellow-painted-steel sculpture Midday (1960), and, on view at MoMA for the first time, three 2006 polyester sculptures by Franz West—Maya's Dream, Lotus, and Untitled (Orange). West's pieces provide a striking example of his interactive practice; the public is encouraged to touch and sit on the chair-like sculptures. In addition to these vivid additions to the Sculpture Garden, many popular hallmarks remain on view, including Hector Guimard's Entrance Gate to Paris Subway (Métropolitain) Station (c. 1900) and works by Alexander Calder, Alberto Giacometti, and Pablo Picasso.

Organized by Ann Temkin, Marie-Josée and Henry Kravis Chief Curator, Anne Umland, Curator, and Leah Dickerman, Curator, Department of Painting and Sculpture.