The Original Copy
01 Aug - 01 Nov 2010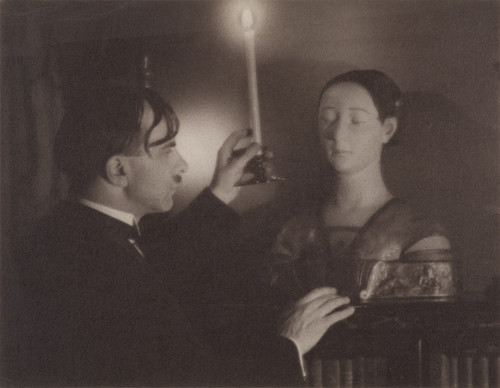 Laura Gilpin
George William Eggers. 1926
Palladium print, printed 1929
4 13/16 x 5 1/2" (12.3 x 14 cm)
© 1979 Amon Carter Museum, Fort Worth Texas. Bequest of the artist.
THE ORIGINAL COPY
Photography of Sculpture, 1839 to Today

August 1, 2010–November 1, 2010

The International Council of The Museum of Modern Art Exhibition Gallery, sixth floor

From its inception, photography offered an unprecedented way to analyze works of art for further study. Through experimental cropping, selection of detail, point of view, and lighting, as well as collage, montage, assemblage, and darkroom manipulations, photographers have not only interpreted the works they recorded but have created stunning reinventions. The Original Copy presents a critical examination of the aesthetic and theoretical intersections of photography and sculpture, taking into consideration how one medium has been implicated in the interpretation of the other. Through a selection of about 350 outstanding pictures by more than one hundred artists from the nineteenth century to the present, the exhibition looks at the ways in which photography at once informs and challenges our understanding of sculpture. Addressing how and why sculpture became a photographic subject, the exhibition also examines specific historical and political conditions. The exhibition features major works by Eugène Atget, Hans Bellmer, Herbert Beyer, Constantin Brancusi, Brassaï, Manuel Alvarez Bravo, Claude Cahun, Marcel Duchamp, Fischli & Weiss, Robert Frank, Lee Friedlander, David Goldblatt, Rachel Harrison, Hannah Höch, André Kertész, Man Ray, Bruce Nauman, Charles Nègre, Gillian Wearing, Hannah Wilke, and Iwao Yamawaki, among others. The exhibition will travel to Kunsthaus Zürich, where it will be on view from January 21 through April 25, 2011.

The exhibition is organized by Roxana Marcoci, Curator, Department of Photography.