Mario García Torres
09 Nov 2013 - 18 Jan 2014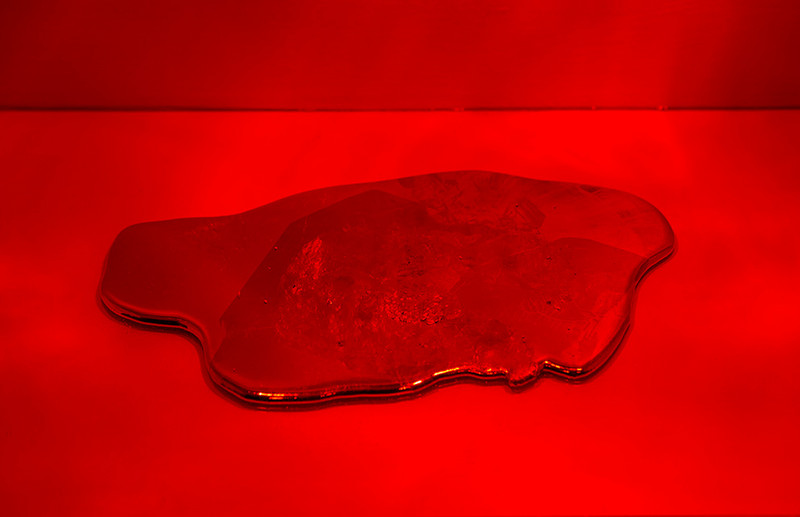 © Mario García Torres
The Shape of Memory, n.d.
2 kilos of liquid gallium. Variable dimensions. Ed. of 5 + 2AP
MARIO GARCÍA TORRES
Other Days
9 November 2013 – 18 January 2014

The area comprising the states of northern Mexico and southern United States is the space in which the exhibition Otros días [Other Days] by Mario García Torres is situated. This exhibition explores and distorts this place in the artist's personal imaginary, taking it both as a location and as a vehicle for the possibility of carrying out artistic gestures.

Composed from records of a variety of strategies that give shape to an elliptical vision of the territory, this exhibition attempts to activate memory and time, triggering other images that live within the spectator, in whom reality is rethought. The work is not what is there, but rather what it reflects, and what the act forgets and omits.

The exhibition is framed by two audiovisual essays: They Call Them Border Blasters (2004), a sweded videoclip for the song "Mexican Radio" (1982) by the New Wave band Wall of Voodoo, which has been subtitled with a text were the social and political implications of radio stations in the borderlands transmitting content toward the United States are investigated. At the other margin of the exhibition, works that the North American artist Robert Smithson planned to carry out at different points in Texas, but which he left unfinished, are reimagined in the video The Schlieren Plot (n.d.).

The series Registros momentáneos consists of photograms produced under the Texan sun, documenting the artist's attempts to seek out different possibilities for a work sketched by Robert Smithson but never produced. Locación posible (Possible Location, n.d.) is a natural diorama of a portion of the aforementioned territory, a place that can be discerned as a potential scene for an artwork, removed from its context as an index of its potential. A sculpture consisting of two kilos of a metal called gallium (La forma de la memoria [The Form of Memory], n.d.), which is capable of reflecting what is around it while in liquid form, understands evocation and the object of memory as being formed by the immediate past but informed by the present.

In Otros días, images are merely devices with which to generate another exhibition, another place in which the works exists. This ultimate stronghold then becomes the space wherein to question objectivity and to put our notions of perception up for discussion.