Nishi Tatzu
11 Jul - 24 Sep 2009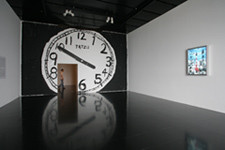 © Nishi Tatzu
Tokyo Time, 2007
"MAM Project 006: Nishi Tatzu" Installation View
Photo: Sakurai Tadahisa
NISHI TATZU

July 11 - September 24, 2007

Japanese artist Nishi Tatzu, who has been based in Cologne, Germany, since 1987, has a reputation for creating audacious and often humorous projects in public spaces. In the past, he has constructed temporary rooms and even houses around existing outdoor objects, like streetlights or monuments. Passersby are invited inside the rooms and given the mind-spinning experience of viewing, for example, a streetlight, a sculpture or even the roof of a car, within a completely artificial, indoor setting. He has also converted a freight container into a functioning cafe, suspending it in midair from a crane to give patrons a rather precarious aerial view of their town.
Following the substantial acclaim for his contributions to the 2nd Liverpool Biennale in 2002 and to "Ecstasy" at MOCA, Los Angeles, in 2005, this year is already proving extremely busy for Nishi. In addition to MAM Project 006, he has a number of projects in progress, including "MDE 07 - Encuentro International Medellin 07," in Colombia, and "Estuaire 2007," an international sculpture festival in the French city of Nantes at the mouth of the river Loire. In Japan, his recent exhibitions have included "Villa Kaihoutei" at Yokohama Triennale 2005 and "Chéri in the sky" (2006), in which he encased the "Pyrotechnician," (a statue of a cavalryman on the roof of Maison Hermès in Ginza) in a bedroom.
For MAM Project 006 he will create a new work that extends beyond the confines of the Mori Art Museum and into the surrounding neighborhood.