The Kaleidoscopic Eye
04 Apr - 05 Jul 2009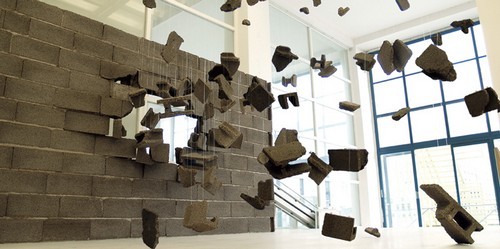 © Los Carpinteros
Frio Estudio del Disastre, 2005
Cinder blocks, concrete, fishing nylon
Courtesy: Sean Kelly Gallery, New York
THE KALEIDOSCOPIC EYE
Thyssen-Bornemisza Art Contemporary Collection
April 4- July 5, 2009
Light, color, sound, language, concept and communication: Contemporary art is much more than just a visual medium. For this exhibition, the Mori Art Museum joins with Thyssen-Bornemisza Art Contemporary (T-B A21), a Vienna-based foundation, drawing on their renowned collection to present a selection of art, including dynamic installation, that stimulates the senses in myriad ways.
The artists represented in the exhibition have a unique and original take on human perception and consciousness. Enveloped in their worlds, viewers are made to feel that their very facilities of perception are being questioned, and that everything they have taken for granted is suddenly thrown into doubt. How do we decide what is real? What is this world we inhabit? Contemporary art presents a kaleidoscope of answers to these most fundamental of questions. Come and experience for yourself what those answers may be.
[Thyssen-Bornemisza Art Contemporary Collection]
Thyssen-Bornemisza Art Contemporary founded in 2002 by Francesca von Habsburg, daughter of the Baron Hans Heinrich Thyssen-Bornemisza (the founder of the Museo Thyssen-Bornemisza in Madrid), is committed to supporting the production of contemporary art, actively commissioning and collecting unconventional projects that defy traditional disciplinary boundaries. The more than 450 pieces in its collection include paintings, photographs, installations, and video works. Support is given to the production of art in a variety of formats, including projects that are architectural, site-specific, or performative, keeping the collection firmly in touch with the ever-diversifying languages of contemporary art.
www.tba21.org
Participating Artist
John M Armleder Guo Fengyi Janet Cardiff Florian Hecker Olafur Eliasson Carsten Höller Tracey Emin Jeppe Hein Haris Epaminonda Jim Lambie Cerith Wyn Evans Los Carpinteros Sarah Lucas Ritu Sarin / Tenzing Sonam Sarah Morris Suh Do-Ho Carsten Nicolai Peter Tscherkassky Paul Pfeiffer Klaus Weber Matthew Ritchie Heimo Zobernig Hans Schabus