Nil Yalter
06 Jan - 28 Mar 2015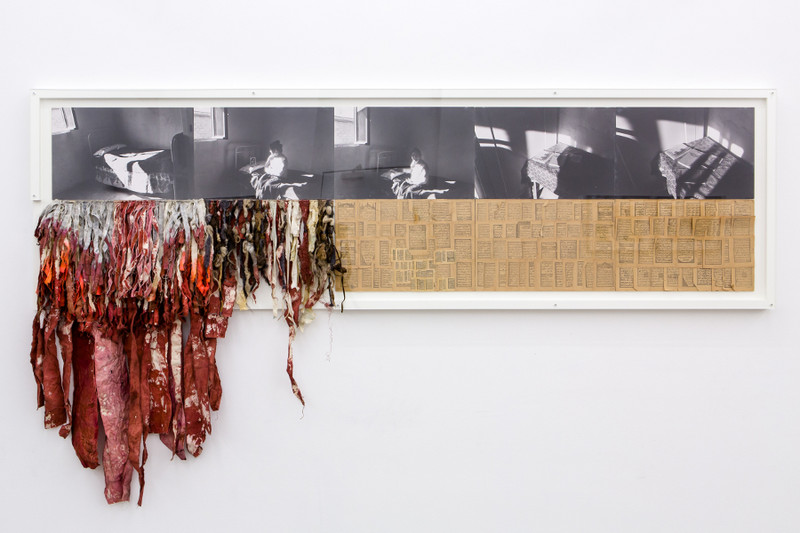 © Nil Yalter
Rahime, Kurdish Women from Turkey, 1979
video, black and white photographs, drawings, installation
NIL YALTER
6 February – 28 March 2015

MOT International London is delighted to present the first solo exhibition of Nil Yalter in London. A key figure in the feminist art movement in France during the 1970s, her exhibition focuses on significant installations from this period that engage with themes of gender, displacement and cultural identity. Having moved from Turkey to Paris in 1965, the artist often collaborated with groups of immigrants and political exiles, documenting the lives of people she met via her engagement with worker's unions and cultural organisations. Yalter herself was a founding member of the 'Femme en Lutte / Women in Struggle' and later the 'Amicale France-Turquie / The Turkish-French Friendship Association'. While works from this period must be seen in the context of both the Paris '68 movement and the political unrest of 1970s Turkey, her artistic output offers generous, often poetic understandings of her subjects. Importantly, the artist's drawings, photographs and videos bring personal contexts to marginal histories, privileging narratives that are often otherwise left unvoiced. Yalter's works are incisive critical portraits of the spaces women occupy.
In the exhibition's earliest work La Roquette, Prison de Femmes (in collaboration with Judy Blum and Nicole Croiset, 1974) the space of the prison, and it's attendant conditions of surveillance and control are traversed. The work recounts in docu-fiction form the narrative of Mimi, an inmate Yalter met following the prisons demolition. While Mimi's face is never shown, her impassive monologue narrates the everyday routines and experiences of the female inmates, emphasising their isolation. La Roquette, Prison de Femmes was viewed ambivalently by then contemporary audiences, considered too aesthetic a gesture for feminist activist groups, yet too near the didactic presentation of sociological research by art circles. After an initial showing in New York (A.I.R. Gallery, 1976) the piece was not exhibited again until its inclusion in Connie Butler's seminal WACK! Art and the Feminist Revolution / 1965–1980. The exhibition also includes her work's Rahime, Kurdish Women from Turkey (1979), in which Yalter similarly documents the eponymous Rahime's difficult transition from her village to an uncertain existence in a shanty-town in Istanbul; and Temporary Dwellings (1974) which archives the precarious accommodations of immigrant workers.
An early adopter of video, Yalter was particularly interested in the medium for its aesthetic and documentary qualities, but also as a form anterior to the 'male-genius artist myth' so strongly associated with painting and sculpture. This exhibition presents her 1979 video Harem, set within an Ottoman seraglio. Key to Yalter's works is her intension to delineate female identities while revealing how they have often lacked legitimate representation.
Nil Yalter (1938) lives and works in Paris. In addition to the 10th Gwangju Biennale, she was included in the exhibitions artevida, MAM, Rio de Janeiro and Clark House Initiative / Kadist Art Foundation, Mumbai in 2014. Recent exhibitions include Paris Ville Lumière, La 13e Biennale d'Istanbul, Istanbul; elles@centrepompidou, Centro Cultural Banco do Brazil, Rio de Janeiro and SAM, Seattle Art Museum, Seattle; The Desire for Freedom, Deutsches Historisches Museum, Berlin and Palazzo Reale, Milan (all 2013); Video Vintage, ZKM, Karlsruhe; Centre Pompidou, Paris and Istanbul Museum of Modern Art, Museum Boijmans Van Beuningen, Rotterdam (both 2012). Her work is held in the permanent collections
of Tate Modern, Centre Pompidou and F.N.A.C. Fonds national d'art contemporain.