Anita Leisz
Kapsch Contemporary Art Prize 2019
18 Oct 2019 - 23 Feb 2020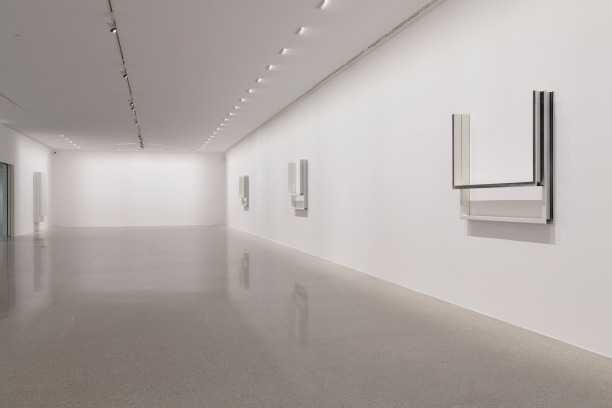 Exhibition view: Antia Leisz. Kapsch Contemporary Art Prize 2019, Foto: Till Megerle, © Anita Leisz, mumok – Museum moderner Kunst Stiftung Ludwig Wien
Anita Leisz (born 1973 in Leoben) is the fourth prizewinner of the Kapsch Contemporary Art Prize, which promotes young artists who are based primarily in Austria.

Her minimal artistic practice cannot be reduced to a clearly defined medium or singular reading, nor to any specific, spatial situation, and this is what makes her work so alluring. She offers options to her audience which may shift according to spatial conditions. Her works influence the places where they are presented and these places influence her works in return. Object and space thus mutually bestow significance on each other. Anita Leisz's works reveal matters that are often concealed. She literally provides us with a look behind the scenes. She creates fascinating relationships between interior and exterior spaces, and between the pure "white cube" and its structural "skeleton." She thus succeeds in drawing the attention of viewers not only to an entire space but also to shifting contexts.

Curated by Marianne Dobner

The Kapsch Contemporary Art Prize 2019
Every year a group of art experts is asked to each nominate three artists for the Kapsch Contemporary Art Prize. In 2019 this group consisted of Matthias Mühling, director of the Städtische Galerie im Lenbachhaus Munich, artist Eva Schlegel, and the Berlin collector Alexander Schröder. An international jury, consisting of Cosima Rainer, director of the art collection and archive at the University of Applied Arts Vienna, Rainer Thalmair, curator at Kunstraum Lakeside, Thomas D. Trummer, director of Kunsthaus Bregenz, Georg Kapsch, CEO of the Kapsch Group, and mumok director Karola Kraus then chose prizewinner Anita Leisz from the nine nominees. Since 2016, the Kapsch Contemporary Art Prize has been awarded by the Kapsch Group together with mumok, and includes prize money of € 10,000. In addition, the winning artist receives a solo exhibition at music, with an accompanying publication. The Kapsch Group also purchases a work or series of works by the artist for the mumok collection.