Hawser / Hofer
04 Mar - 22 May 2016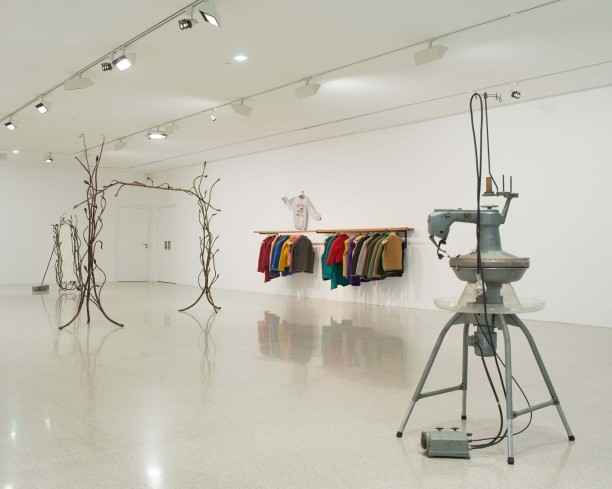 Exhibition view, HAWSER / HOFER, mumok, Wien, 4.3 – 22.5.2016, Photo: mumok/Hannes Böck
HAWSER / HOFER
4 March - 22 May 2016

Curated by Barbara Rüdiger

From March 4, 2016, mumok is presenting two young artists who both reflect critically on contemporary concepts of nostalgia, re-evaluating these with new works made especially for this mumok show. Kathi Hofer (born 1981 in Hallein) draws on her own family history and an Austrian fashion icon—the artist comes from the Salzburg Hofer family that, up to the year 2000, produced the Austrian clothing brand Walkjanker. The timeless elegance of these clothes survived trends and technological innovation for fifty years, and they were included in the portfolios of top fashion houses and magazines and worn by international stars—including actress Grace Kelly, the writer Ernest Hemingway, and the Paris fashion designer Kenzo. Eloise Hawser (born 1985 in London) also works with objects that may seem to be long obsolete, bringing these under new conditions into the context of contemporary art. Her work for mumok is based on her ongoing research on cinema organs.

The works of these two artists are presented in a joint setting on mumok's Level –2. Together they amount to a proposal on how artists may address historical and biographical fragments without succumbing to anachronisms. Hofer and Hawser take an accomplished look at the found fragments of the past so as to bestow new meaning on them for the present.