Pop and the Sixties
19 Jan - 02 Sep 2012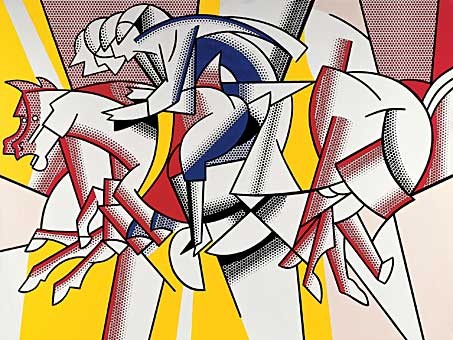 Roy Lichtenstein
The Red Horseman, 1974
mumok, Leihgabe der Österreichischen Ludwig Stiftung, Foto: mumok © VBK Wien, 2012
POP AND THE SIXTIES
Curator: Karola Kraus
19 January - 2 September, 2012

Numerous works by Claes Oldenburg, Andy Warhol, Jasper Johns, Robert Rauschenberg, Roy Lichtenstein, Tom Wesselmann, Robert Indiana and Jim Dine constitute an important emphasis of the mumok permanent collection, which is internationally renowned for its holdings of Pop Art. The extensiveness of the collection will make it possible to place the Claes Oldenburg retrospective into a fitting context.

Together with the protagonists of American Pop Art, the works of their British colleagues, Peter Blake, Richard Hamilton and David Hockney along with the European realisms of the 1960s give us a good idea of the extent to which the fascination with everyday culture had become a broad, international phenomenon. Enormous enlargements (Domenico Gnoli, Raymond Hains), unexpected combinations (Konrad Klapheck) and images that are literally ripped from the street (Mimmo Rotella) celebrate the seeming banalities of our world and at the same time establish a connection to the work of Claes Oldenburg. In this way, the exhibition develops the larger context of the special exhibition, trying to show the many parallels and analogies to Oldenburg's work.