George Herriman
18 Oct 2017 - 26 Feb 2018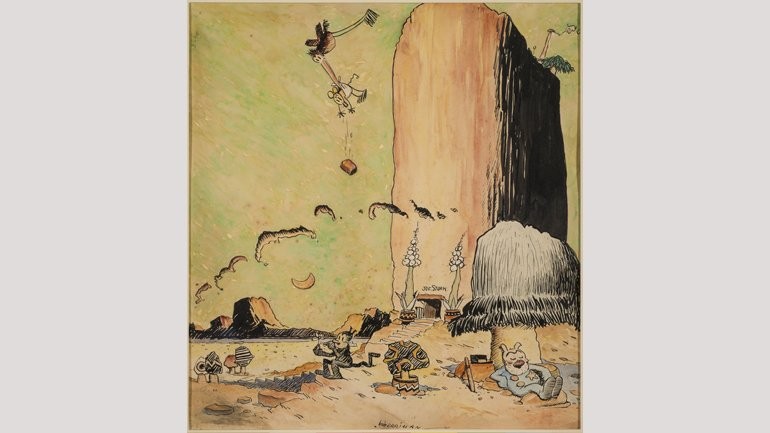 George Herriman, Krazy Kat. N.d.. Ink, pencil and watercolor on paper. 34,3 x 36,8 cm.
Garry Trudeau Collection
© King Features Syndicate, Inc. TM Hearst Holdings, inc., King Features Syndicate Division
GEORGE HERRIMAN
Krazy Kat is Krazy Kat is Krazy Kat
18 October 2017 – 26 February 2018

Curatorship: Rafael García and Brian Walker

George Herriman (New Orleans, 1880 – Los Angeles, 1944), regarded as one of the foremost American cartoonists, was part of a generation of pioneering artists who developed their work in the newspapers that started to feature comic strips at the turn of the twentieth century. Herriman's work was hugely influential among a broad array of artists, including Willem de Kooning and Öyvind Fahlström, as well as intellectuals and writers such as E. E. Cummings, T. S. Eliot and Jack Kerouac.

The work of Herriman came into being alongside the progress of the comic as a new artistic language surfacing in the USA at the tail end of the nineteenth century. This new medium brought with it a series of visual discoveries based on the repetition of drawings and patterns which, at this early stage, denoted a major narrative accomplishment.

His most popular creation, the comic strip Krazy Kat (1913–1944), lauded by The Comics Journal as the century's finest comic creation, narrates a love triangle which was repeated over and over during its thirty-year-long publication. The basic premise involved Ignatz, a mouse that hurls a brick at the head of a cat called Krazy, who takes this show of aggression to be a declaration of love, while Offissa Pupp – a dog – attempts to avoid the attacks and imprisons the mouse as a form of punishment.

The inclusion of George Herriman's work in the Museo Reina Sofía's exhibition programme lays out a twofold objective: to display the work of an artist who, by way of his formal discoveries, can be compared to the leading avant-garde figures throughout history, the contemporaries of his cartoons, and to examine the relationships and influences between comics and other artistic languages. Moreover, it questions and reflects on the dynamics of valuation and the legitimisation of art, particularly the comic, much maligned by traditional historiography as "inferior" art, or as a by-product of the art associated with "low-brow culture" and aimed at children.

The exhibition brings together around 160 works, ranging from original drawings to the newspapers in which they were published, thereby displaying not only examples of Krazy Kat but also other strips such as Baron Bean, Embarrassing Moments and The Family Upstairs. The show's accompanying catalogue also features a selection of Herriman's most distinguished pieces, and different essays focused on his work.