Tracey Rose
29 Jan - 15 May 2014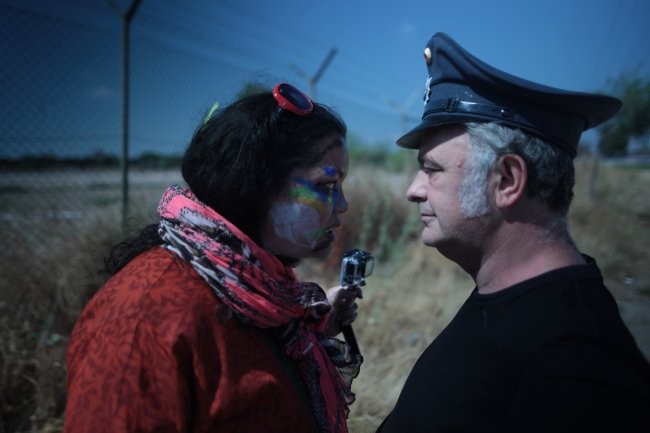 "Exterminate all the Brutes", a scene from La Nave Madre, 2013 © Tracey Rose, courtesy Dan Gunn, Berlin and Goodman Gallery, Johannesburg. Photograph by Christopher Wessels. Pictured: Tracey Rose and Javier Montero
TRACEY ROSE
(x)
29 January - 15 May 2014

For her first solo exhibition in Spain, the artist Tracey Rose (Durban, South Africa, 1974) presents her new project entitled (x). It consists of a video-installation and an energy space created from two pieces that feature light, acoustic and chromatic elements, in which the symbolic elements of the shapes and different components serve as a vehicle for these energies that envelop the spectator. The pieces can be read though the prism of telluric currents and the magical qualities assigned to certain materials. For the video-installation, Tracey Rose recorded an audiovisual piece in the framework of a performance, of which the Museum was one of the main settings, and also in different places in the city of Madrid. The work of art occupies two areas within the Museum: Sala de Bóvedas and Espacio Uno. However, the intervention appearing in each of them is conceived as an explanatory and conceptual complement to the other one.

Through video and performance, as in her previous creations, the artist becomes part of the work of art, in that her body, either nude or disguised, is the medium that makes visible –metaphorically, ironically or explicitly– a human experience of maximum intensity, perhaps sexual, religious or political. In this case, her body seems to have been the object of lacerations, either physical or psychological, and falls into an ambiguous state between anguish and ecstasy. The regeneration and catharsis of body and mind, liberated from cultural and ideological constrictions, and their capacity to act free of rules and prejudices, are the path chosen by the artist for her exploration of personal and artistic identity.