Georg Herold
27 Oct 2007 - 16 Mar 2008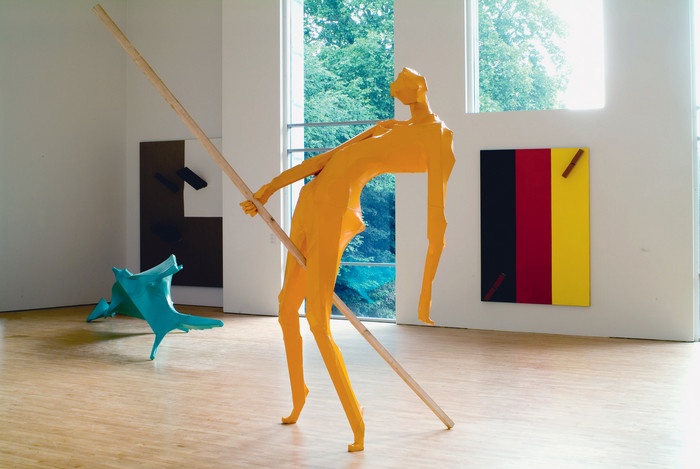 Georg Herold, "Figur", 2007; im Hintergrund: "Ohne Titel (Mr Edsel)", 2007; "workmen", 2005; "Platz des Himmlischen Friedens", 2005 (Ausstellung im Stedelijk Museum voor actuele Kunst, Gent, 2007)
Georg Herold. wo man kind

Roof battens, bricks, car lacquer, caviar – regardless of whether the material comes from a DIY store or a deli: Georg Herold topples art from its pedestal. Sharp witted and astute, mischievous and sometimes even saucy, ever since the late seventies he has played with material and concepts. And his interest is constantly rekindled by the changing relationships between society and the art business.

Museum Ludwig has a broad selection of works by this Cologne artist from the period between 1986 and 2001. He has now been invited to devise his very own presentation of his works. Herold will show pieces from the Museum Ludwig collection along with new sculptural pieces. Not least a three-metre-tall angular figure in livid orange. It consists of a construction of wooden battens that were screwed together until the structure had the outline of a woman. Covered in canvas and sprayed with car lacquer, this mannered figure has been given one sole attribute: a long wooden batten which she is holding between her legs.