Jo Baer
24 May - 25 Aug 2013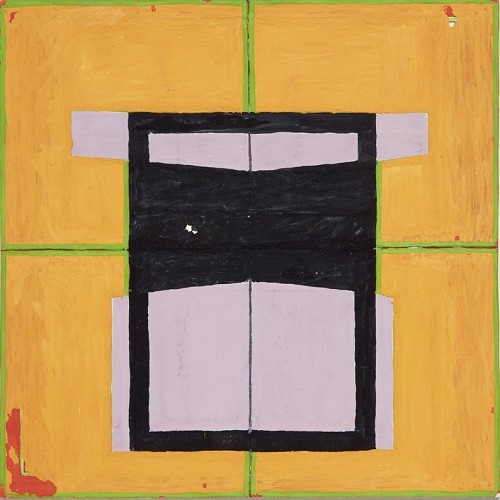 © Jo Baer
Untitled
1960
Gouache and collage on paper
15,3 x 15,3 cm
Collection of the artist, courtesy Galerie Barbara Thumm Berlin
JO BAER
Curator: Julia Friedrich
24 May - 25 May 2013

From 24 May through 25 August 2013, the Museum Ludwig will be showcasing - as the first ever German institution to do so - the US American artist Jo Baer (*1929 in Seattle, lives since 1984 in Amsterdam) in a solo exhibition. Baer is regarded as a pioneer of Minimalism and already reached an initial high point in her career in 1975 when the Whitney Museum of American Art mounted a retrospective of her work. Starting out from a scarcely known core of drawings, which are flanked by major works on canvas, the exhibition concentrates on the artist's minimalist period from 1960 to 1975 before following on to her current, figurative work. With around 170 works, this will be Baer's largest overview exhibition to date.

Baer rose to fame in the 1960s and 1970s with her extremely reduced paintings in which a slender strip of color alongside a broader black band runs round the large white center of the canvas. The difference in effect of the colored strip next to a pale or a dark field, and the impact of Canvas size and format on the viewer's perceptions are among the central topics in Baer's painting.

After moving from New York to Ireland in 1975, Baer's work underwent a fascinating change in style. It became representational, narrative and multicolored. She developed her principle of "Radical Figuration", in which she traced elements from cultural history, such as archaic cave painting or ancient Grecian culture, back to their origins. This research is reflected by her paintings from 1975 onward.

The link between these two distinct phases in Baer's creative output may be seen, according to the thesis of this exhibition, in her works on paper from the early 1960s. Her gouaches reveal an early interest in signs and symbols, and also a wider spectrum of colors. At the same time the exhibition explores her drawing as an instrument for developing new images, as prototypes and aides-mémoire. With this retrospective view, the exhibition pays tribute to the exceptional work of one of the truly great painters of our times and presents Baer as a unique and independent-minded artist.

The exhibition is closely linked with the museum's own collection. Already in the 1970s Irene and Peter Ludwig bought a number of works by Baer. In 2010 this commitment was expanded to include a group of nine early drawings and the print portfolio "Cardinations".

The exhibition is accompanied by an extensive oeuvre catalogue published by Verlag der Buchhandlung Walther König, which includes texts by Julia Friedrich, Lucy R. Lippard, Lauren O'Neill-Butler, and David Raskin, and a foreword by Philipp Kaiser.

Parallel to the Museum Ludwig, the Stedelijk Museum in Amsterdam will be showing Jo Baer's latest works in the exhibition "In the Land of the Giants" (16 May - 1 September 2013).