Modernist Masterpieces
04 Aug 2012 - 31 Aug 2013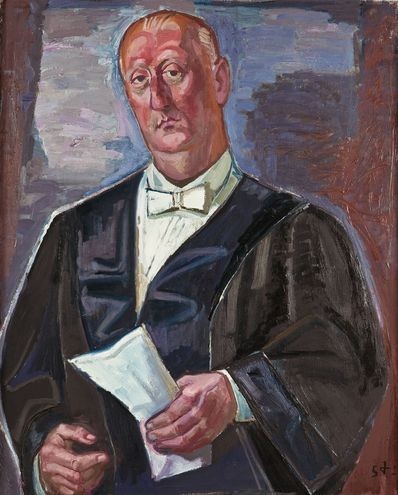 Otto Dix
Portrait of Doctor Josef Haubrich
1951
Oil on canvas
100 x 81 cm
Museum Ludwig, Köln
© VG Bild-Kunst Bonn, 2012
MODERNIST MASTERPIECES
The Haubrich Collection at Museum Ludwig
4 August 2012 – 31 August 2013

When Josef Haubrich gave his treasures to the city of Cologne in 1946, her citizens interpreted this as a good omen. Until just prior to this event, this type of art seemed to have no future; now it was on tour through Germany and Europe, celebrated triumphantly at each venue. Today, the Haubrich Collection is housed in the Museum Ludwig. Considered one of the best compilations of Expressionist Art, it also features works from the Neue Sachlichkeit as well as other art movements.

Sociable and generous, Haubrich (1889-1961) was a lawyer and typical Cologne personality. He had something that others lacked: courage. The collection mirrors his personality, his joy of life, and his curiosity vis-à-vis new things. Already during World War One, he had begun to gather sculptures, watercolors, and paintings, among them such highlights as the Portrait of Doctor Koch by Otto Dix or Emil Nolde's Dreamers.
After many years, this collection will finally be united again in its original context, ready to be admired by all visitors. Among the high points are the painted reverse of some paintings, two of which, Ernst-Ludwig Kirchner's Fränzi in Meadows and Alexej von Javlensky's Variation, have never been exhibited before and are now especially highlighted thanks to the exhibition design by Berlin based artist Eran Schaerf.
A comprehensive catalogue will feature the best works from the Haubrich holdings with expert texts. Particular emphasis is put on the collection's genesis, offering a plethora of newly gathered information. This exhibition pays homage to a man to whom the art-city of Cologne owes much.