Roy Lichtenstein
02 Jul - 17 Oct 2010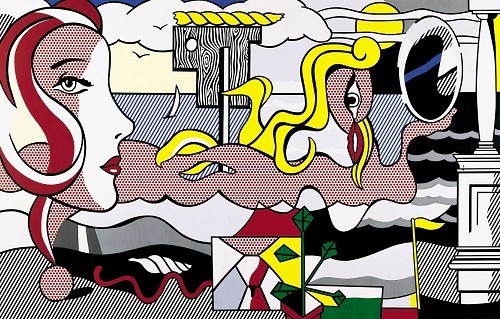 Roy Lichtenstein
Figures in Landscape, 1977
Louisiana Museum of Modern Art, Humlebaek, Denmark
© VG Bild-Kunst Bonn, 2010
ROY LICHTENSTEIN
"Kunst als Motiv"

2.7 – 17.10.2010

The Ben-Day dots of Pop Art maestro Roy Lichtenstein (1923-1997) have become world-famous. Using motifs from comic strips and the consumer world, Lichtenstein created paintings made up of dots and coloured surfaces. At the exhibition in Museum Ludwig you can now discover a completely different side to his art. In around 100 exhibits, predominantly large-sized paintings as well as accompanying drawings and sculptures, we can follow how he explored various styles from art history, ranging from Expressionism and Futurism to the Bauhaus, Art Déco and even east Asian landscape painting. Works and the stylistic hall-marks of such artist heroes as Monet, Matisse, Mondrian and Dalí appear as themes and set elements, which Lichtenstein rephrases in his own imagery with a mixture of irony and mastery. Even Picasso gets cast in a totally new light, becoming a pseudo-comic that reflects the clichéd image of the artist. The impressive paintings from the series "Brushstrokes" show precisely that - brushstrokes, but massively enlarged and stylised. They testify to Lichtenstein's searching reflections on painting and may be seen as the key works in the exhibition.

Museum Ludwig has the largest collection of American Pop Art outside of the USA, with many works by Lichtenstein. After visiting the Lichtenstein exhibition you can take a tour round the museum's permanent collection, which gives fascinating insights and points of comparison with works by Léger and Picasso, and even Kirchner and Magritte.

The exhibition has been organised in close collaboration with the Roy Lichtenstein Foundation.

Curators: Gianni Mercurio (From January till May the exhibition was on show in a different form at the "Triennale di Milano" in Milan under the title "Roy Lichtenstein: Meditations on Art") and Dr. Stephan Diederich (Museum Ludwig).