Egan Frantz
06 - 30 Sep 2014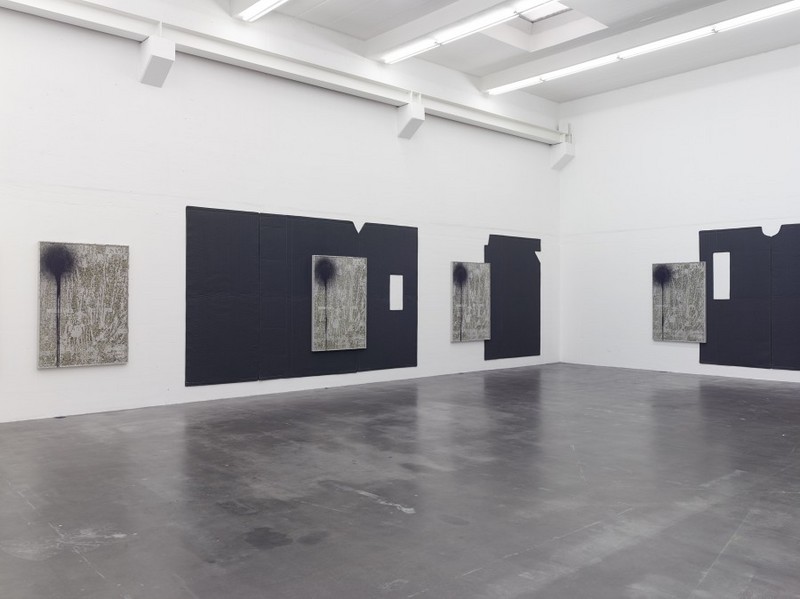 Egan Frantz
"Monday & Friday, Tuesday & Friday, Wednesday & Friday, Thursday & Friday, Friday & Friday", 2014
Installation view
Galerie Nagel Draxler, Köln
Photo: Simon Vogel
EGAN FRANTZ
Monday & Friday, Tuesday & Friday, Wednesday & Friday, Thursday & Friday, Friday & Friday
6 - 30 September 2014

A line is a dot going for a walk. – Paul Klee

Post-minimalism, American painting of the past ten years (explicitly the collaborative works of pro-tagonists Wade Guyton and Stephen Prina) and their linkage to spatial installation is means for Egan Frantz in his first solo exhibition with Galerie Nagel Draxler.

There are three distinct kind of works, some inextricably bound to others.

Pads tailored for elevators to protect them from surface damage are flattened. They are clothing, walls on walls, form emerging from forms: wall-bound architecture. Like any true monochromes they hang between space and picture.

Laser-etched across the surface of acrylic glass and powder-coated aluminium frames fitted with sheets of rebounded foam, Egan Frantz introduces "Lowghost", a phonetic play on "logos" (Greek for "word"). The term "word" is echoed by Lowghost in its most picturesque form: as drawing. The motif recurs so that distinguishing one work from the next is possible only with Frantz' signature, an etching of a laundry receipt in each bottom-right corner. The underlying recycled and rebonded foam (foam made out of foam) is another of those "positive tautologies" that are primary in Frantz' artistic system (form emerging from forms, walls on walls...).

With the perverted execution of an instruction by Lawrence Weiner, previously seen with Stephen Prina's "Push Comes to Love" now "Chef Gone Crazy", Frantz pushes harder and risks democratising the gesture. In the artists words:

"Chef Gone Crazy" is the spool from which Lawrence Weiner instructed anyone or no-one to thread into the needle with which Stephen Prina's is stitching.

"Keep out. Chef Gone Crazy."

Egan Frantz was born in 1986 in Norwalk, Connecticut. Besides solo exhibitions at Jack Tilton Gallery in New York, Tomorrow Gallery in Toronto and Brand New Gallery in Milan, he participated in exhibitions at Museum Essl in Vienna and Miguel Abreu Gallery in New York. Egan Frantz lives and works in New York.