Mathiew Greenfield
09 - 30 Nov 2013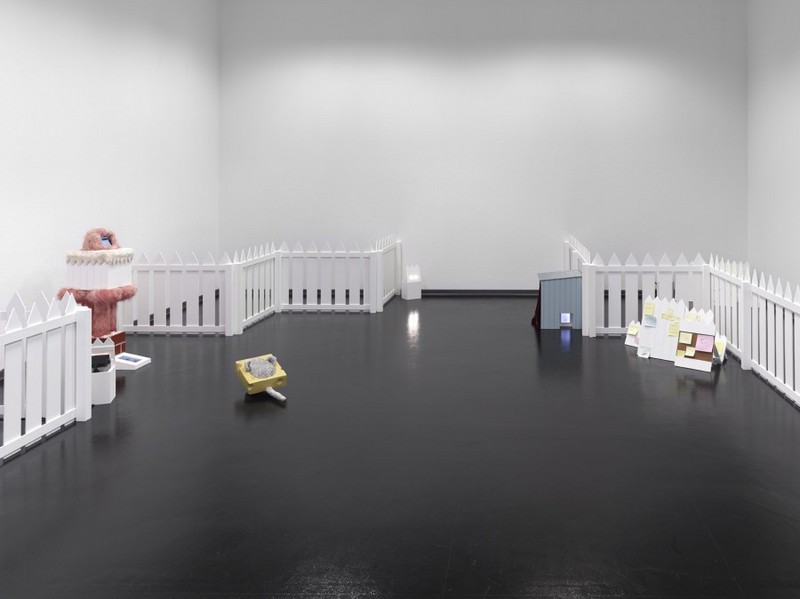 © Mathiew Greenfield
The House of Kitty Pink, 2013
Installationsansicht
Galerie Nagel Draxler, Köln
Photo: Simon Vogel
MATHIEW GREENFIELD
The House of Kitty Pink
9 - 30 November - 2013

Dear Kitty,

How are you?

I am writing to you because I have recently
some questions about your existence and development: most notably, "What or who is Kitty Pink?"

To be honest, I hesitate to fully answer this question, and I think this is out of loyalty to you. I have enjoyed getting to know you. Perhaps I am feeling a need to protect you because I am still learning about what you are, what you want from me, and what you may want from others. If I lose sense of this, I worry that our relationship may dissipate.

You are probably asking me, and I have certainly also asked myself: Why did I chose to expose you, and why now? Was it out of a selfishness, or a desperation to have validation for us? Am I being short-sighted?

Aspects of the implications of these questions may be true, but I also suspect that if you wanted to remain more elusive, the structures that you built around yourself would have been more protected. I have come to think that you already armoured yourself sufficiently over the development of the work, but in case you did not and I put you at risk, I apologize for that. Even if you do question my decision, I still sense that you will also revel in the play and provocation. It may feed you.

I am starting to feel more optimistic about all of this. At the least, you finally have a home, for now.

Very Truly Yours,
Mathiew

"The House of Kitty Pink", is a realization of a fantasy. Kitty Pink came to Greenfield last fall while he was working in Berlin. A process of research and reading in combination with the use of unconscious and intuitive methods enabled the development conceptualization of this work.

Mathiew Greenfield received his MFA in 2012 from the University of California – Los Angeles. He received his BA in Economics and Visual Art from Brown University in 2005. He is a current DAAD Artist Scholar and a former Fulbright Scholar. His work has been exhibited at the New Wight Gallery at UCLA, The Wand Berlin, HEIT Berlin, Control Room Los Angeles, LaunchLA, 808 Gallery Boston, List Art Center at Brown University, and the Seigfred Gallery at Ohio University. This is his first exhibition with Galerie Nagel Draxler.