Luca Vitone
01 - 22 Nov 2014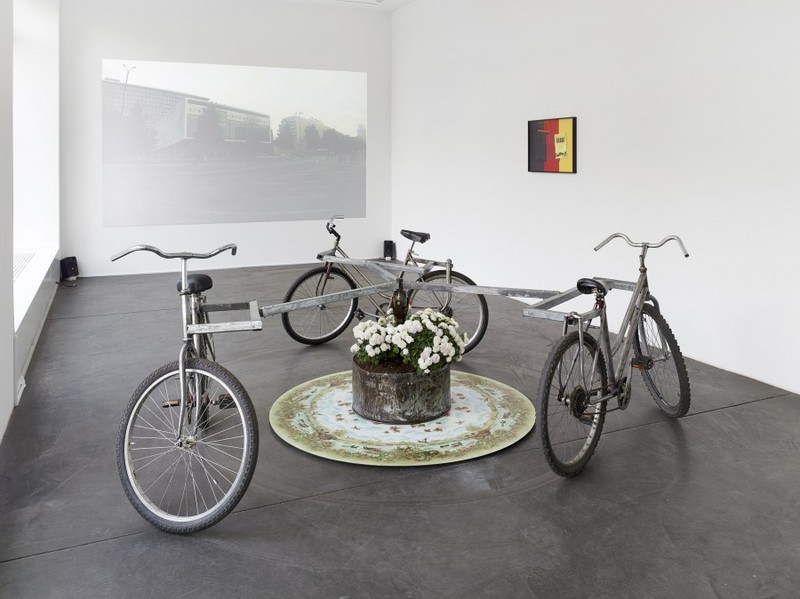 © Luca Vitone
"Der Zukunft Glanz (Karussell)", 2014
Tischplatte, Fahrräder, Blumen
ca. 280 x 280 cm
Photo: Simon Vogel
LUCA VITONE
Der Zukunft Glanz
1 - 22 November 2014

Der Zukunft Glanz (English: The glance of the future) is the result of Luca Vitone's very personal examination and interpretation of the city of Berlin. In 1985 he visited Berlin for the first time and has since observed its constant changes, in particular those of the former eastern part of the city after Germany's reunification. The title Der Zukunft Glanz is figuratively based on the Italian phrase "Il sol dell 'avvenire", which was long considered as the slogan of Italian Socialism: An Utopia, because the proclaimed "bright" future has not worked out but failed. This also becomes apparent in the development of the city of Berlin itself, in which capitalism prevails (e.g. in the form of gentrification).

The elements and objects on display are artifacts and are of personal origin. The windows and doors were removed from Luca Vitone's apartment; the map of Germany shows Berlin before the reunifaction; the small road map was bought by the artist for his first trip to Berlin in 1985; he forund the marble stone in his apartment.

By means of a bicycle tour through East Berlin Luca Vitone appropriates the city and its history in a very personal manner, parodying the anthem of communism, the International.