Pola Sieverding
03 Apr - 05 Jun 2016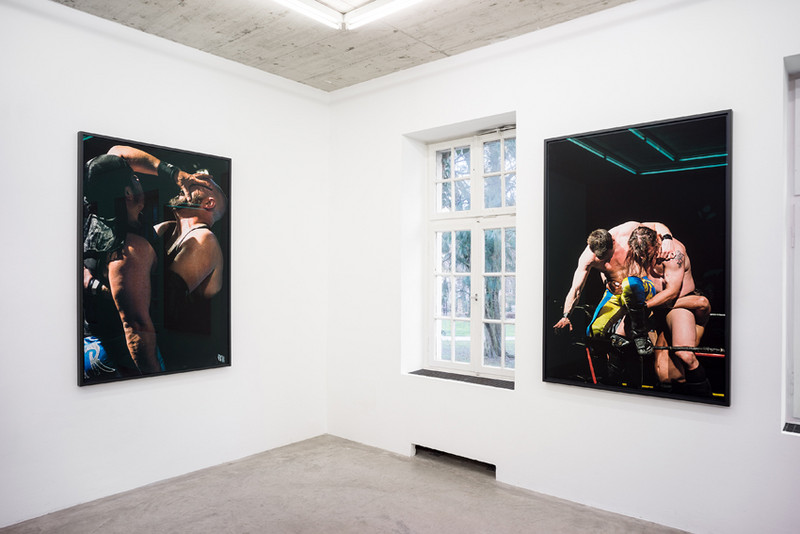 Installation view NAK © Photo: Klaus Mettig / © Pola Sieverding; Courtesy Anna Jill Lüpertz Gallery, Berlin
POLA SIEVERDING
The Epic
3 April — 5 June 2016

The exhibition 'The Epic' presents a selection from her 'Arena' series, in which Pola Sieverding questions the correlation between documentation and staging. The title 'The Epic' already hints at the comprehensive visual-narrative storyline nature of her works, which seem to be subject to certain regulations, comparable to the structuring of a text by verse metre.

In pose, costume and choreography the artist emphasizes the iconography of wrestling, at the same time scrutinising the validity of narration as well as of pictures in general and photography in particular. Furthermore for the exposition at the NAK the film 'The Epic' came into being. It pays special attention to the cinematographic vocabulary of precise camera work to high-contrast montage. In doing so the formalistic aesthetics of the boxers' naked upper parts of the bodies are accentuated in front of a dark background and the usage of slow-motion-techniques simultaneously integrates the spectator positively into the event.

Pola Sieverding arranges her photographic works into spatial casts equal to the nature of an artist's workshop. By positioning photography like sculptural work in front of a wall, the spatial limitation of the walls is entirely occupied via the medium of the photographic mural, so that three-dimensionality and narration can be anticipated like in a relief frieze. Moreover, in the architectural design of the tribune, which is placed in the upper levels of the exposition, a concrete reference to the setting of athletic competitions and their historical connotation is given.

In the exhibition 'The Epic' Pola Sieverding translates the staging of the mythological fight into a contemporary discourse about questions and strategies of a medial-aesthetic perception of body, sex and finally identity.