Marie Voignier
15 May - 26 Jun 2011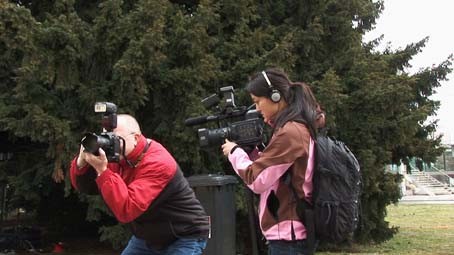 © Marie Voignier
Hearing the shape of a drum, 2010
HDV video, 17 min
Coproduced by the 6th Berlin Biennial for Contemporary Art and the Centre d'Art Contemporain de Brétigny.
Courtesy Marcelle Alix, Paris
NKVextra
MARIE VOIGNIER
Hearing the Shape of a Drum
15 May - 26 June, 2011

Hearing the shape of a drum follows the media outburst following the lawsuit known as the "Amstetten Monster." The days-long gathering of hundreds of journalists and technical teams are the basis of the film. As the proceedings were held behind closed doors, the press is presented with a major difficulty : absence of an image. Beyond the observation of the fabrication of images and subjects at all costs, where nothing is known of seen, the film poses the question of the presence of the artist, placed on the same level as journalists with the tools of production.