Freddy Birdy
24 Apr - 16 May 2009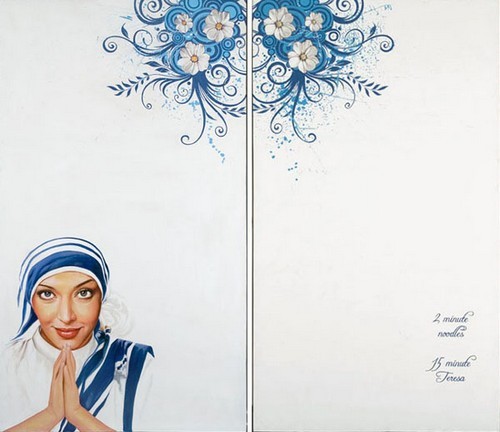 © Freddy Birdy
2 minute noodles,15 minute Teresa [diptych], 2009
oil on canvas
84" x 96" (213 x 243 cms)
FREDDY BIRDY
New Paintings

Opening on Friday, April 24th from 7 to 9pm.
Exhibition remains on view through Saturday, May 16th.

Nature Morte is pleased to present the very first exhibition of paintings by Freddy Birdy. Originally from Bombay, Mr. Birdy has lived and worked in New Delhi for the past decade. He holds a Bachelors of Commerce degree from Bombay University and has recieved more "Copywriter of the Year" awards than any other copywriter in Indian advertising. He has worked with India's leading advertising agencies, such as Enterprise, Grey Worldwide, Mudra and McCann Erickson and on campaigns for brands that include Thums Up, Sil jams, Vimal, Yves Saint Laurent, Polo mints, Samsung, Taj Hotels and Rasna. He currently owns his own advertising agency called Shop, which is based in New Delhi.

It comes as no surprise then that Mr. Birdy's paintings are predominently text-based. Through the adroit use of font styles, graphic devices, juxtapositions of scale and accompanying pictures, his works present both prose and poetry as visual art, something to read but also something to experience. His subjects are the foibles of romance, the longing for both self-confidence and status through a variety of relationships, and the confluence of artistic strategies and mass-marketing dialogues.

Highly idiosyncratic within the context of contemporary Indian art, Mr. Birdy's works participate in a long history of language-based paintings and art works that characterize Western Modernism: from the word/image puzzles of the Surrealist Rene Magritte, the studies of meaning by American Conceptualist Joseph Kosuth, the Pop Icons of Los Angeles painter Ed Ruscha, to the linguistic experiments of Feminist artists such as Barbara Kruger and Jenny Holzer. Yet Mr. Birdy does not recreate an academic's dry rhetoric. Rather, his works are humorous and highly entertaining, self-deprecating and tongue-in-cheek, placing him in the context of his own generation of artists such as Richard Prince, Maurizio Cattelan and Martin Kippenberger, who poke fun at the conventions of art so as to take it forward. Mr. Birdy posits painting as a type of stand-up comedy.