Pushpamala N.
06 - 28 Apr 2012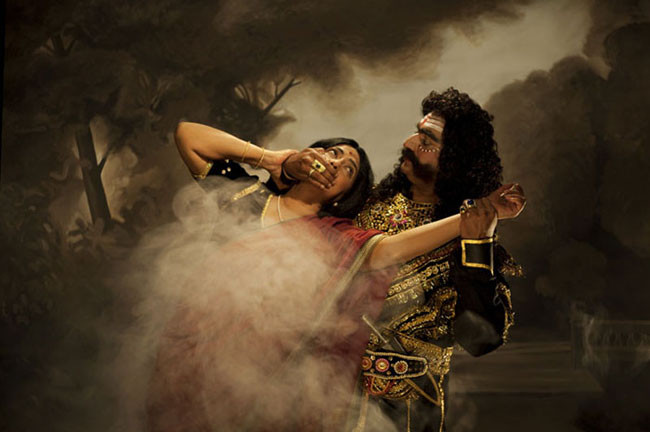 © Pushpamala N.
"Abduction / The Mist" 2012
from the series: The Passion
Archival inkjet print
35" x 50.5" (89 x 128 cms) framed size
PUSHPAMALA N.
The Passion
6 - 28 April, 2012

Nature Morte is pleased to present a solo exhibition of new works by the artist

The Passion explores the characters of three women from the Ramayana as archetypal figures. Set in fantasy environments, fateful incidents from the epic are played out on a spectacular stage in both still photographs and videos, with elaborate costuming and lighting to create powerful atmospheres. Pushpamala refers to various genres of image-making in her works, resulting in richly layered hybrids with multiple references. Many of the works in the exhibition refer to theatre stills from the early 20th century, while others use early cinema as their models. The artist is always the central protagonist in these dramas and the works function as documents of performances, as critiques of representational constructions, and as oblique self-portraits.

Pushpamala N. (born 1956 in Bangalore) lives and works in both Bangalore and New Delhi. She earned BA and MA degrees in Sculpture from the Faculty of Fine Arts, M.S. University, Baroda after studying Economics, English and Psychology at Bangalore University. She had her first solo show in 1983 in Bangalore and since then has had solo exhibitions in galleries in Bangalore, Mumbai, Delhi, Kolkata, Paris, New York and Chicago. Her video works have been screened in film festivals all over the world and in 2010 she was awarded a residency to work in Paris and create a series of photographs at the legendary Studio Harcourt for the exhibition "Paris, Mumbai, New Delhi" at the Centre Pompidou (2011). This is her fourth solo show with Nature Morte in New Delhi, the first being in collaboration with The British Council.