Alejandro Cesarco
10 Sep - 01 Nov 2013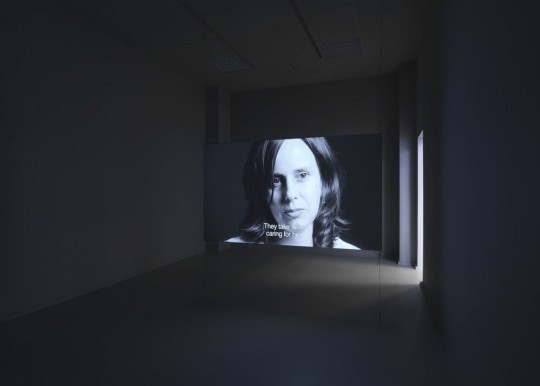 © Alejandro Cesarco
Musings (2013), Exhibition view Neuer Berliner Kunstverein, photo: Jens Ziehe, 2013
ALEJANDRO CESARCO
10 September – 1 November 2013

Curated by Sophie Goltz

Alejandro Cesarco (b. 1975 in Montevideo / Uruguay, lives and works in New York) is one of the best-known post-conceptual artists of his generation. The focus of the exhibition at n.b.k. Showroom is his new video Musings (2013), co-produced by Contour Mechelen vzw, Belgium and Neuer Berliner Kunstverein. This new video retells a series of anecdotes regarding premonitions, fate, dreams, and other types of messages that are the generative source for creative work. Compiled are stories by or relating to, amongst others, Susan Sontag, Ingmar Bergman, Maurice Blanchot, Italo Calvino, Julio Cortázar, and Agnes Varda. The selected stories also have in common that the resulting creative works (art, literature, or film) have very much to do with death and mortality. Musings proposes to triangulate the ideas of inspiration, influence and inheritance. An artist's book accompanies the exhibition.

Alejandro Cesarco studied at Universidad Católica del Uruguay in Montevideo, at New York University and the International Center of Photography in New York. In 2006, he was selected for the program of the Rolex Mentor and Protégé Arts Initiative to work together with John Baldessari and, in 2011, received the Baloise Art Prize at Art Basel. Most recently his works were shown among others at: Kunsthalle Zürich, Zurich (2013); mumok – museum moderner kunst stiftung ludwig wien, Vienna (2012); 30th São Paulo Biennial (2012); 54th Venice Biennale (2011); Level 2 Gallery, Tate Modern, London (2010); Museum of Modern Art, New York (2010). His works are represented in collections including: mumok – museum moderner kunst stiftung ludwig wien, Vienna; Museum of Contemporary Art Denver; Colby College Museum of Art, Waterville; Princeton University Art Museum; Colección Patricia Phelps de Cisneros, New York / Caracas.