Dave Allen / Candice Breitz / Douglas Gordon
11 Jun - 26 Jul 2013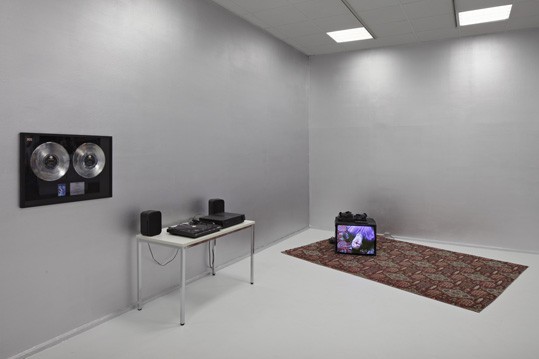 Dave Allen / Douglas Gordon, exhibition view Neuer Berliner Kunstverein, 2013, photo: Hans-Georg Gaul

DAVE ALLEN / CANDICE BREITZ / DOUGLAS GORDON
Curated by Raimar Stange
11 June – 26 July 2013

In the exhibition POPISM, Dave Allen, Candice Breitz and Douglas Gordon examine the operating system of pop music in order to reflect the contradiction between profit-oriented production and pleasurable consumption in a critical way. The focus is on the fan as that postmodern figure, which minimizes the alienation within the pop with its active reception. In the installation Dub to Drone (GNR Platinum) (2013) by Dave Allen a custom-made dubplate of the platinum record Use Your Illusion II by Guns N Roses is played during the entire duration of the exhibition. Due to the intense wear the audio coating of the short-life dubplate record is gradually destroyed. The sound is increasingly superimposed by noise until all that remains of the former copy of the platinum record is no more than the raw material. The work Abba Monument, Berlin, June 2007 by Candice Breitz is one part of the five-part series Monuments. In these monumental group portraits Breitz explores the phenomenon of self-representation and imitation within the fan culture. These sensual enactments are located between precise imitation and individual interpretation. Douglas Gordon is represented with the installation Douglas Gordon Sings The Best of Lou Reed & The Velvet Underground (1993), consisting of a video monitor and a carpet. The video shows Gordon lying on the carpet, presenting himself here as a fan, who emulates his idol in active reception.

Dave Allen (b. 1963 in Glasgow, living in Stockholm), in his artistic practice, intensively deals with pop music and contemporary compositions. Exhibitions include: Nasjonalmuseet, Oslo (2013); Museum of Contemporary Art, Oslo (2012); Palais de Tokyo, Paris (2010); allgirls, Berlin (2009); Bregenzer Kunstverein (2009); Center for Contem-porary Art, Glasgow (2009); Secession, Vienna (2008); CAAC, Seville (2007); Art Metropole, Toronto (2005).

Candice Breitz (b. 1972 in Johannesburg, living in Berlin), in her videos, photographs and installations, deals with stereotypes and visual conventions of pop and film culture and the relationship between the fan and the idol. Exhibitions include: Standard Bank Gallery, Johannesburg (2012); Kunsthaus Bregenz (2010); White Cube, London (2010); Espoo Museum of Modern Art (2010); The Power Plant, Toronto (2009); San Francisco Museum of Modern Art (2009); Louisiana Museum of Modern Art, Humblebaek (2009); Mudam Luxembourg (2008); Temporäre Kunsthalle, Berlin (2008) and others.

Douglas Gordon (b. 1966 in Glasgow, living in Glasgow, Berlin and New York), in his films, photographs, videos and installations intensely explores the perception of images in our everyday culture. Douglas Gordon was represented in 1997 with the Young Bristish artists in the British Pavilion at the 47th Venice Biennale. In 1996 he received the Turner Prize and the 1998 the Hugo Boss Prize. Exhibitions include: Gagosian Gallery, New York (2012); Museum of Modern Art, Frankfurt/Main (2011); Auditorium Arte, Rome (2011); Tate Britain, London (2010); Van Abbemuseum, Eindhoven (2009).