Kajsa Dahlberg
04 Mar - 18 Apr 2014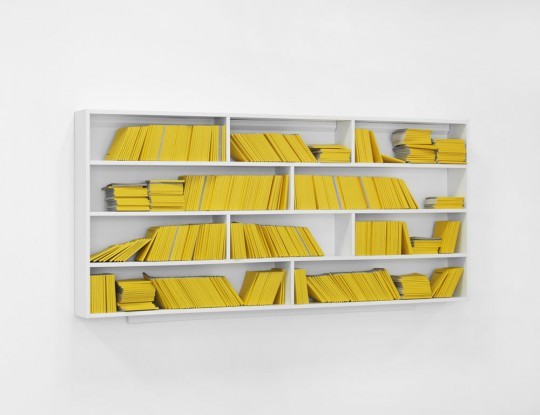 © Kajsa Dahlberg
Ein Zimmer für sich / Ein eigenes Zimmer / Ein Zimmer für sich allein / Vierhundert-dreiunddreißig Bibliotheken (2011), exhibition view Neuer Berliner Kunstverein, photo: Jens Ziehe, 2014
KAJSA DAHLBERG
4 March – 18 April 2014

Curator: Kathrin Becker

Kajsa Dahlberg (born 1973 in Gothenburg, lives and works in Berlin), in her art practice, reflects the media of video, text and sound as well as their history of reception in view of the construction and communication of narrative structures in the context of political representation, history and identity. For her solo exhibition at the n.b.k. Showroom, Dahlberg produced a new cinematic piece that deals with the issue of work and focuses on the phenomenon of time as a central aspect of negotiation in the confrontation of the needs of workers and employers. The examination of time is also reflected on a formal level - referring to video as a time-based medium - and interrelated to the time experienced by the viewer. In addition, a second work by Dahlberg is on show, Ein Zimmer für sich / Ein eigenes Zimmer / Ein Zimmer für sich allein / Vierhundert-dreiunddreißig Bibliotheken (A Room of One's Own / Four Hundred Thirty-Three Libraries) (2011). For this purpose, the artist had the German edition of Virginia Woolf's feminist classic A Room of One 's Own (1929) printed in 10,000 copies, marked with numerous marginal notes, highlights and underlinings in different handwritings, which at first she had compiled from all copies available in the Berlin libraries, in order to unite them in this edition. The publication is available free of charge.

Kajsa Dahlberg studied at Konsthögskolan in Malmö and, 2007–2008, took part in the Whitney Independent Study Program, New York. Since 2012, she teaches at the Valand Academy of the University of Gothenburg. Solo exhibitions include: Museum of Contemporary Art Roskilde (2013); Index – The Swedish Contemporary Art Foundation, Stockholm (2006). Group exhibitions and biennials include: Gesellschaft für Aktuelle Kunst, Bremen (2012); based in Berlin (2011); 8th Bienal do Mercosul, Porto Alegre (2011); Turku Biennial (2011); Manifesta 8, Murcia (2011); Moderna Museet, Stockholm (2010); Lunds Konsthall (2010); The Kitchen, New York (2009); The Power Plant, Toronto (2009); 1st Athens Biennale (2007); Prague Biennale 3 (2007); The Royal College of Art, London (2007).

Research assistants: Sophia Schultz, Frank Janssen.