Mess with Your Values
03 Mar - 29 Apr 2018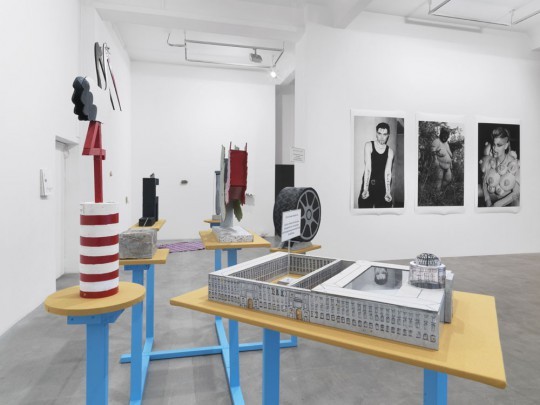 Exhibition view Mess with Your Values, Neuer Berliner Kunstverein, 2018 © Neuer Berliner Kunstverein / Jens Ziehe
Yalda Afsah, Lars Bjerre, Jeremiah Day, Annette Frick, Katrin Glanz, Nadira Husain, Wilhelm Klotzek, Andréas Lang, Annika Larsson, Zoë Claire Miller, Katrin Winkler

Curators: Marenka Krasomil, Michaela Richter

The exhibition Mess with Your Values presents the wide range of topics and practices of eleven international artists, who were awarded the Berlin Senate work stipends in the visual arts in 2017. Numerous video artworks, expansive installation and performative works, paintings, prints and photographs offer an insight into Berlin's artistic diversity.

Mess with Your Values presents positions dealing with issues of change in society, the encounter and exchange of different social groups, the recognition and equality of all genders as well as forms of historiography. At the same time they question normative perspectives and use artistic means to deliberately create ruptures that can be experienced as spaces of opportunity.

The title of the exhibition Mess with Your Values resorts to the band Joy Division. In the song Candidate from their legendary album Unknown Pleasures the band sings in a laconic and haunting post-punk manner about the rebellion against existing circumstances and the dissociation from repressive systems.

The artists of the exhibition examine concepts of society, territories and narratives with a variety of approaches and ways of expression. Mess with Your Values sounds out habitual patterns of thought and deadlocked value patterns as to their flexibility and ambiguities. The deliberate blurring of borders and the creation of a "mess" serve as productive strategies that, in an expressive, subversive and humorous way, enable a new view on community.