Shirin Homann-Saadat
14 Dec 2010 - 28 Jan 2011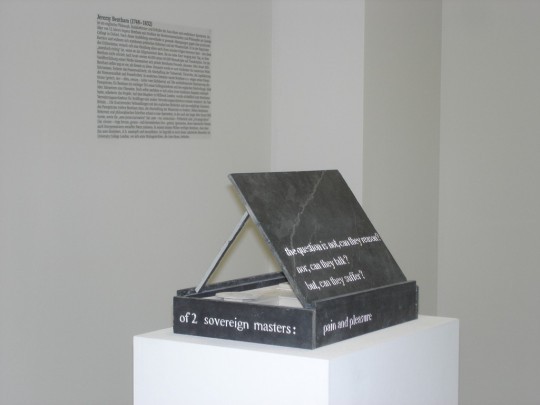 Shirin Homann-Saadat, Auto–Icon–Narcissus–Echo–Orlando (2010), Installationsansicht Bentham-Box, Neuer Berliner Kunstverein, 2010
Foto: Jens Ziehe
Gruppenbild
5: SHIRIN HOMANN-SAADAT
December 14, 2010 – January 28, 2011

Gruppenbild is a five part exhibition series in the Showroom at Neuer Berliner Kunstverein. The participating artists all work with performance and installation, and over the course of the year will create this experiment in collaboration with curators Kathrin Becker and Sophie Goltz. With each new artistic intervention, existing installations will be varied and new elements added. From the individual contributions, a collective conceptual image emerges. The show begins with the video installation Timing and Consistency (2010, 7:30 min) by Karolin Meunier, a performative monologue on the possibilities and limits of people's statements about themselves. The second part continues with Discoteca Flaming Star showing the video work El valor del gallo negro (Buthe – Turm – Börse) (2010, 24 min), a performance for the camera which addresses the presence and absence of the body in the process of abstraction. Azin Feizabadi took Gruppenbild's artistic and curatorial processes as the point of departure for his installation Felix, what will remain after all this? (2010) in order to link these to examples of collective resistance and thus to examine how an event affects the event that follows. According to Pina Bausch's dance piece Kontakhof (1978), Ming Wong explores in his video work Kontakthope (2010, 24 min) the everyday gestures of encounters between artists and curators.

Shirin Homann-Saadat works with literature and philosophy of Jeremy Bentham, Virginia Woolf and Ovid, et al. telling her history of Gruppenbild. 4 boxes were developed: Bentham-Box, no Echo no Narcissus-Box, Orlando-Box, Widerstandskiste (versiegelt) (resistance box [sealed]) (all 2010), which reflect and mirror the different artistic contributions. Belonging to the boxes, the wall texts describe the philosophical and literary references. With Shirin Homann-Saadat's sculptural intervention Auto–Icon–Narcissus–Echo–Orlando the exhibition series Gruppenbild ends.