Where Are We Now
05 Mar - 01 May 2016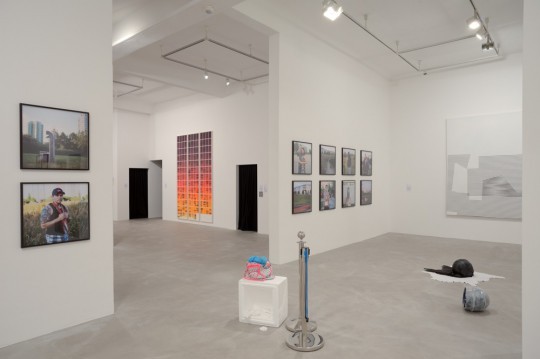 Works by Christine Fenzl, Cyrill Lachauer, Andrea Winkler, Klaus Jörres; exhibition view Neuer Berliner Kunstverein, 2016, photo: Sebastian Gündel
WHERE ARE WE NOW
Manon Awst / Benjamin Walther, Fritz Bornstück, Peggy Buth, Kerstin Cmelka, Carolina Hellsgård, Christine Fenzl, Klaus Jörres, Vika Kirchenbauer, Wojciech Kosma, Cyrill Lachauer, Paul Plamper, kate-hers RHEE, Jeremy Shaw, Viron Erol Vert, Andrea Winkler
5 March – 1 May 2016

Curators: Frank Wagner, Silke Wittig

With the exhibition Where Are We Now, Neuer Berliner Kunstverein resumes the exhibition series with fellows of the Fine Arts Scholarship of the Berlin Senate in 2016. Fifteen emerging, international positions of the contemporary art scene in Berlin will be presented. Using various media and diverse forms of expression and approaches, the artists address current social issues.

The exhibition encompasses a wide range of topics. With references to ethnology, natural science, philosophy, film and theater, influences of cultural identity, different concepts of reality and sociopolitical spaces of tension are scrutinized and dealt with in installations, videos, photographs, paintings, sculptures, sound installations and performances. The exhibition's title refers to David Bowie's song Where Are We Now?, in which Bowie retrospectively illuminates his time in West Berlin in the late 1970s as well as the social developments and changes since then. The artists represented in the exhibition almost all belong to the generation that was born in that period since the 1970s. In the exhibition they deal both with the conditions of their production sites as well as with the period of the 1980s and 1990s, which informed them during their adolescence. In times of rapid change, political and financial crises, insecurity, terror and social divisions, the title Where Are We Now stands for an inventory of the current situation and at the same time asks for taking up positions. Furthermore, the title pays tribute to the late David Bowie, in whose oeuvre Berlin played a central role. Thus, the exhibition Where Are We Now provides approaches of a critical understanding of present and past models of life – as well as their heroes, ideals and utopias.

Publication
As part of the n.b.k. book series "Berlin", a publication by Verlag der Buchhandlung Walther König, Cologne is released, with an introduction by Tim Renner and Marius Babias as well as texts by Maxim Biller, Frank Wagner and Silke Wittig.