Alexandra Pirici
06 Feb - 15 Apr 2018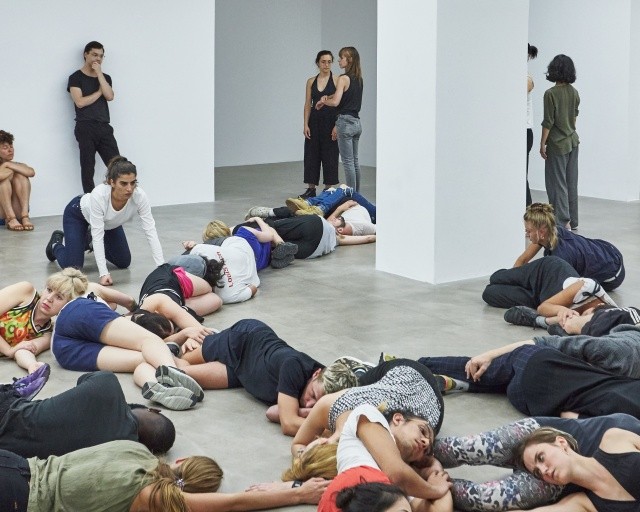 "Alexandra Pirici: Aggregate," 2017
Exhibition view: Neuer Berliner Kunstverein, Berlin
Photo: Joseph Devitt Tremblay
Courtesy the artist

ALEXANDRA PIRICI
06 February – 15 April 2018

In her work, alexandra pirici (b. 1982, bucharest, romania) uses performance and choreography to address symbolic manifestations of history through frameworks that define bodily presence in both real and virtual space.

Her new project for the New Museum takes the form of an ongoing action with live performers and one holographic performer. The project approaches the concept of presence in an expanded sense, focusing in particular on its increasing dispersion. In Pirici's ongoing action—conceived especially for the New Museum's South Galleries—presence is revealed in a variety of ways: as physical body as well as artificial stand-in, avatar, and ghost, taking on the character of a memorial or monument; as image and abstraction of the living subject into quantifiable, monetizable data; and as the expanded life of "dead" objects in museum collections—using the presence of live performers to challenge their stable state and static interpretation.
This new work continues Pirici's recent interrogations into the collective body through choreographies that link different temporal and spatial events in real time. In the work, performers embody amalgamated parts, intersecting with each other yet separately manipulable. Pirici's project attempts to enact the dispersion of presence and to comment on contemporary processes of abstraction that separate sign from substance and image from material support. Proposing a distributed occupation of space and time, the work functions as one monstrous, modular organism made of living and digital matter.

The exhibition is curated by Helga Christoffersen, Assistant Curator, and will be on view in the New Museum's recently inaugurated South Galleries, a space designated for premiering new productions at the Museum. The South Galleries preserve the character of the building's loft spaces, where many artists historically worked and exhibited.

Alexandra Pirici was born in 1982 in Bucharest, Romania, where she lives and works. Her work has recently been presented at n.b.k, Berlin (2017); Skulptur Projekte Münster (2017); the Berlin Biennial (2016); Tate Modern, London, and Tate Liverpool (2016); OFF-Biennale Budapest (2015); the Museum of Modern Art, Warsaw (2015); Manifesta 10, St. Petersburg (2014); Centre Pompidou, Paris (2014); and Van Abbemuseum, Eindhoven (2014). In collaboration with artist Manuel Pelmuş, she represented Romania at the 55th Venice Biennale (2013). In 2015, she received the Excellence Award of the National Dance Center, Bucharest.