Lynda Benglis
09 Feb - 19 Jun 2011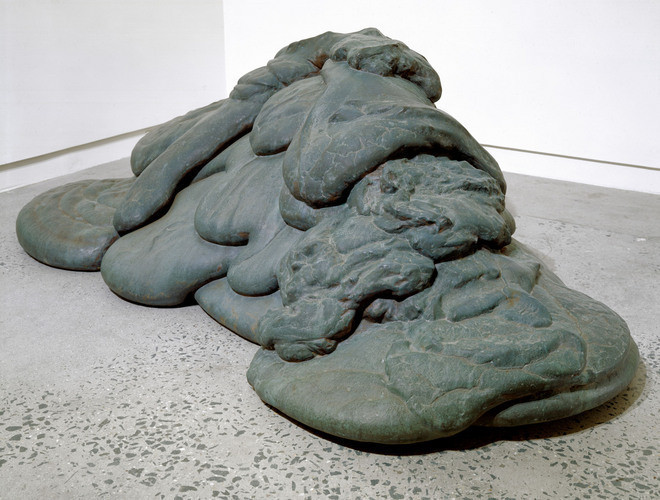 © Lynda Benglis
Eat Meat, 1973
Bronze
24 x 80 x 54 inches 61 x 203.2 x 137.2 centimeters Courtesy Cheim & Read, New York
LYNDA BENGLIS
2/9/11 - 6/19/11

Beginning February 9, 2011, the New Museum will present a major exhibition of works by Lynda Benglis, the renowned American artist's first museum retrospective in over twenty years. Benglis is an artist whose work continues to challenge artistic norms and exceed easy definition. Initially developed in the 1960s, her singular practice did not fit clearly within the sharp aesthetics of Minimalism or in the overtly political gestures of feminist art. Unlike Minimalist sculpture, Benglis's works are steeped in the organic, with rivers of vibrant colors and erotic melting forms populating her sculptures. Rejecting the formalist influences of modernism, Benglis takes painting off the wall and brings color back into sculpture; she captures sensual experience and creates a visceral tie between the viewer and her biomorphic figures. With this unique combination of sensuousness and punk attitude, Benglis has influenced many generations of artists.

Spanning forty years of work, "Lynda Benglis" will be on view at the New Museum from February 9 through July 13, 2011. "Lynda Benglis" is organized by the Irish Museum of Modern Art, Dublin, in collaboration with Van Abbemuseum, Eindhoven; Le Consortium, Dijon; Museum of Art, Rhode Island School of Design, Providence; and New Museum, New York.

The New York presentation of the exhibition will be supplemented by a selection of specifically chosen works such as Contraband (1969), Benglis's largest and most significant pour sculpture at almost forty feet in length, on loan from the Whitney Museum of American Art. Most significantly, the New Museum exhibition will also include Phantom (1971), a polyurethane installation consisting of five monumental sculptures that glow in the dark. Realized over forty years ago and unseen since its original presentation at Kansas State University, Phantom has been known during intervening years exclusively via photographic documentation. Included in the presentation at the Museum of Art, the Rhode Island School of Design, Providence, Phantom has come to be considered the apex of the artist's early accomplishments. It is an event of art historical importance that Phantom will be on display at the New Museum for the first time ever in New York City.

In addition to Benglis's extraordinary poured latex pieces from the 1960s and 1970s, the exhibition will include early bronze casts, wax reliefs, and videos, revealing the creative universe of an artist who has radically reinvented the language of contemporary sculpture. Works from her "Torsos" and "Knots" series of the 1970s will be presented in close dialogue with such irreverent installations as Primary Structures (Paula's Props) (1975). Benglis's recent work in polyurethane and signature pleated-metal sculptures of the 1980s and '90s will also be on view in the exhibition, as will Benglis's rarely seen photographic work. The exhibition will also explore the artist's landmark media interventions, such as the infamous 1974 Artforum advertisement featuring a nude Benglis holding a double-headed dildo, a commentary on the machismo that dominated the New York sculpture milieu at that time.

Most recently, Benglis has experimented with plastics, cast glass, paper, and gold leaf. Continuing to use the body and landscape as primary references, Benglis's latest sculptures reveal a striking sense of immediacy and physicality even as they seem to defy gravity.