Marguerite Humeau
Birth Canal
04 Sep 2018 - 06 Jan 2019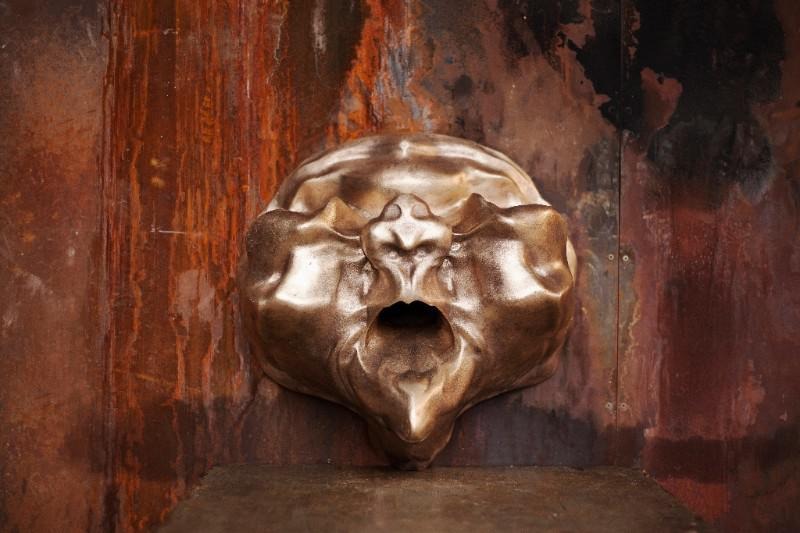 Marguerite Humeau, 35000 A.C (Sphinx Death Mask), 2018.
Bronze, 18 1/8 × 8 1/4 × 18 1/8 in (46 × 21 × 46 cm).
Courtesy the artist and CLEARING New York/Brussels.
Image Credit: Marguerite Humeau – Battaglia Foundry Sculpture Prize #02.
Photo: © Virginia Taroni. Courtesy Archivio Fonderia Artistica Battaglia, Milan

MARGUERITE HUMEAU
Birth Canal
04 September 2018 – 06 January 2019

Curated by Natalie Bell, Associate Curator

THE NEW MUSEUM WILL PRESENT THE FIRST US SOLO MUSEUM EXHIBITION BY MARGUERITE HUMEAU (B. 1986, CHOLET, FRANCE), DEBUTING A NEW INSTALLATION OF SCULPTURE AND SOUND.

Humeau's work often centers on the origins of humankind and associated histories of language, love, spirituality, and war. Each of the artist's projects is prefaced by a period of intense investigation during which she engages diverse authorities on her chosen subject, including historians, anthropologists, paleontologists, zoologists, explorers, linguists, and engineers. Through her interdisciplinary, speculative inquiry, she enriches her own thinking as an artist and researcher, and refashions historical quests to reflect the information age in which we live.

Humeau's New Museum exhibition follows her recent solo presentations at Tate Britain and Palais de Tokyo, and will feature a new body of digitally rendered sculptures realized in cast bronze and carved stone. The forms and scale of these works reflect the artist's research into correspondences between the shapes of prehistoric Venus figurines and the contours of animal brains. In a darkened gallery space, a group of ten Venus-like figures will prophesize the extinction of their offspring—humankind—in an ominous scene of polyphonic trance. These sculptures will appear formally ambiguous, resembling brains, figures, or spirits of different ages and statuses, and will evoke mediums or visionaries engaged in a conversation that is part convocation and part choral lament. With allusions to animism, totemism, and spiritual travel, Humeau's installation offers a forum for these imagined voices and premonitions and underscores the brevity of human existence relative to cosmic and geologic time.

Following its debut at the New Museum, Humeau's exhibition will travel to Kunstverein Hamburg in February 2019, and Museion, Bolzano in September 2019.

Marguerite Humeau (b. 1986, Cholet, France) lives and works in London. Recent solo exhibitions include Tate Britain (2017); Museum Haus Konstruktiv, Zurich (2017); Schinkel Pavillon, Berlin (2017); Les Abattoirs Musée FRAC Occitanie, Toulouse (2017); Nottingham Contemporary, Nottingham, UK (2016); and Palais de Tokyo, Paris (2016). Her work has been included in group exhibitions at the Hayward Gallery, London (2018); Haus der Kunst, Munich (2018); High Line, New York (2017); Kunsthal Charlottenborg, Copenhagen (2017); Manifesta 11, Zurich (2016), Thyssen-Bornemisza Art Contemporary, Vienna (2015); the Museum of Modern Art, New York (2014); and elsewhere. Humeau received the Zurich Art Prize in 2017 and the Battaglia Foundry Sculpture Prize in 2018.