Mathias Poledna
28 Jan - 08 Mar 2009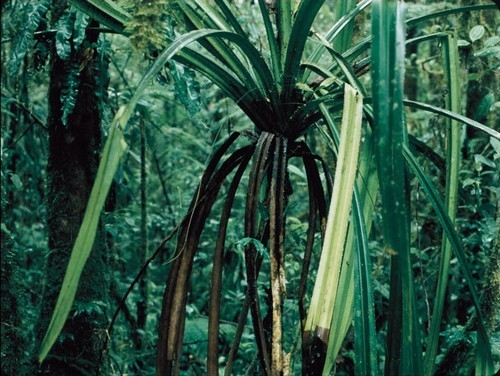 © Mathias Poledna
still from Crystal Palace, 2006
35mm color film with optical sound, 28 min
Courtesy Richard Telles Fine Art, Los Angeles
NEW COMMISSIONS
MATHIAS POLEDNA
"Crystal Palace"

1/28/09 - 3/8/09
Fourth Floor

Mathias Poledna's work Crystal Palace is a 35mm film installation comprised of a small number of long, static shots of the montane rainforest landscape of the Southern Highlands Province of Papua New Guinea. Using tightly framed medium-close to medium-wide shots, the film's carefully selected scenes focus on the complex patterns, textures, and the overall abstract qualities of this environment, seemingly without human presence. Only subtle changes in light and movement in foliage provide visual cues to the passing of time. The film is accompanied by a dense and highly edited soundtrack created from on-location and archival field recordings that oscillate between distinct insect and bird sounds, and drone-like noise.
Poledna's title, Crystal Palace, evokes the monumental glass-and-steel structure of that name constructed for the Great Exhibition of 1851 in London, an important precursor of modern architecture and industrialized construction that was built to present the newest products of the capitalist economy, accompanied by exotic displays, fauna and flora. Poledna's work explores how meaning becomes attached to images and sounds; it creates a complex tension between a specific place, its cinematic appearance, and historical concepts circulating around it. In Crystal Palace, Poledna specifically references Sounds of a Tropical Rainforest, a 1951 album of staged field recordings produced by Folkways Records for the American Museum of Natural History to accompany an exhibition about indigenous Amazonian people.
Poledna's work is also informed by film history, particularly the interconnections between early film and popular and avant-garde cinema, as well as the history of visual ethnography. Unlike traditional documentary and ethnographic film, Crystal Palace lacks an authoritative voice as it investigates a foreign place through an extremely narrow focus and highly subjective framing. While it presents itself as a fragmentary document of an existing landscape and its history, its images seem to deviate only slightly from our common assumptions of how a tropical rainforest might appear. The images' virtual motionlessness and extreme depth of field, which paradoxically makes them appear flat, enforces a nonobjective dimension in the work, which, along with the intense soundtrack, suggests the physiological experience of abstract and structural film.
This exhibition is curated by Russell Ferguson, Adjunct Curator, Hammer Museum, Los Angeles. It is organized at the New Museum by Jarrett Gregory, Curatorial Assistant.