MOTHA and Chris E. Vargas
Consciousness Razing
26 Sep 2018 - 03 Feb 2019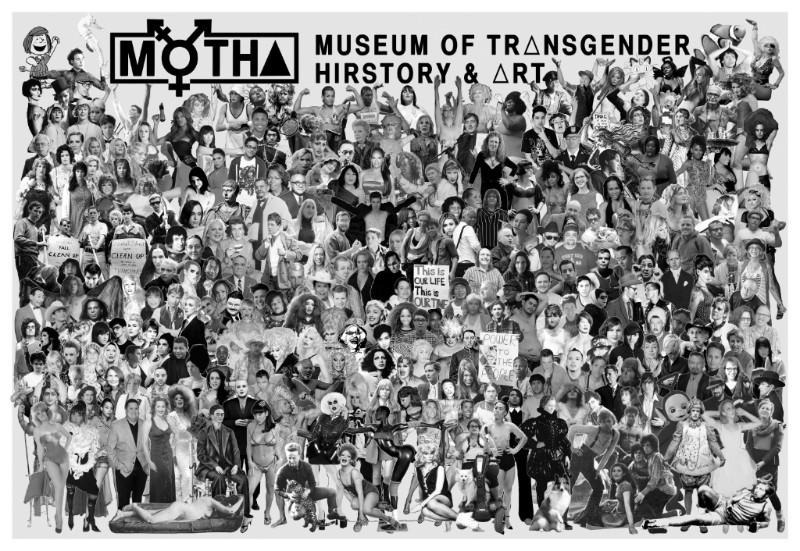 Chris E. Vargas, Transgender Hiroes, 2013
MOTHA promotional broadside, offset print on newsprint, 28 × 33 in (71 × 83.8 cm)
Courtesy the artist

MOTHA AND CHRIS E. VARGAS
Consciousness Razing
26 September 2018 – 03 February 2019

Curated by Johanna Burton, Keith Haring Director and Curator of Education and Public Engagement, and Sara O'Keeffe, Associate Curator, with Kate Wiener, Curatorial Assistant.

"MOTHA AND CHRIS E. VARGAS: CONSCIOUSNESS RAZING—THE STONEWALL RE-MEMORIALIZATION PROJECT" WILL BE THE EXHIBITION AND RESIDENCY PRESENTED THROUGH THE DEPARTMENT OF EDUCATION AND PUBLIC ENGAGEMENT'S FALL 2018 R&D SEASON: GENERATION.

With wry humor and incisive critique, Vargas parodies mainstream social and institutional codes to reimagine queer and trans experience and representation. Vargas is the founder of the Museum of Transgender Hirstory & Art (MOTHA), a semi-fictional institution that serves as a malleable platform for exhibiting transgender art and hirstory. Taking up the contested legacy of the word "history," Vargas notes that "for millennia, the patriarchy has had versions of history; for a few years in the 1970s, some white feminists had herstory; but it hasn't been until now that transgender people have finally had a gender-neutral hirstory all their own."

At the New Museum, Vargas will continue work on his project Transgender Hirstory in 99 Objects (2015–ongoing), a visual and material exploration of significant artifacts in the history of transgender communities. Major museums often present one hundred objects from their collections to construct "definitive" historical narratives; in this series, Vargas riffs on this convention, purposefully presenting only ninety-nine objects to point to the forever incomplete project of representing history. A creative and critical exploration of LGBTQI archives, Vargas's ongoing project takes the form of exhibitions (of which this will be the fifth), publications, and touring performances in which the artist appears as the Executive Director of MOTHA.

This iteration of the project will explore Stonewall as a geographically, demographically, and historically contested site. Throughout MOTHA's four-month exhibition, Vargas will question what we know about the 1969 Stonewall riots in New York, often cited as a formative event for gay liberation as well as the modern LGBTQI civil rights movement in the United States. For years, many of the activists who led the fight against violence and police brutality against queer and trans people—including Sylvia Rivera, Marsha P. Johnson, Miss Major, and many others—were not properly recognized in popular accounts of Stonewall. Today, these figures are increasingly acknowledged in mainstream LGBTQI histories, yet narratives of their work often elide their more radical demands and critiques of racism, economic marginalization, and transphobia.

In order to expand the way this history is memorialized, MOTHA has invited artists to propose new monuments to the 1969 Stonewall Riots, to replace the George Segal sculptures currently installed in Christopher Park. Featuring an intergenerational group of artists working across a wide range of media, these projects take up Stonewall's legacy through radically different forms and on divergent terms. The artists include Chris Bogia, Jibz Cameron, Nicki Green, Martine Gutierrez, Sharon Hayes, Thomas Lanigan-Schmidt, Catherine Lord, Devin N. Morris, D'hana Perry, Keijaun Thomas, Geo Wyeth, and Sarah Zapata.

Rather than construct a neat historical trajectory, Vargas's project contends that attempting to narrate a stable history does the past a disservice. Acknowledging that the act of historicizing is inherently biased and often self-serving, MOTHA works with and against this bind, finding new ways to uncover, recast, and recuperate elements of the past.

Chris E. Vargas (b. 1978) is a video-maker and interdisciplinary artist originally from Los Angeles and currently based in Bellingham, WA. From 2008 to 2013, Vargas collaborated with Greg Youmans to make the web-based trans/cisgender sitcom Falling In Love . . . with Chris and Greg. With Eric Stanley, he codirected the short film Homotopia (2006) and its feature-length sequel Criminal Queers (2015), which have screened at Palais de Tokyo, Paris; LACE, Los Angeles; Centre for Contemporary Arts Glasgow; the New Museum; and other venues. He is the executive director of the Museum of Transgender Hirstory & Art (MOTHA), a conceptual arts and hirstory institution that highlights trans art's contributions to the cultural and political landscape. Iterations of MOTHA have been presented at the Henry Art Gallery, Seattle (2016); Hammer Museum, Los Angeles (2014); and Yerba Buena Center for the Arts, San Francisco (2013).