Report On The Construction Of A Spaceship Module
22 Jan - 13 Apr 2014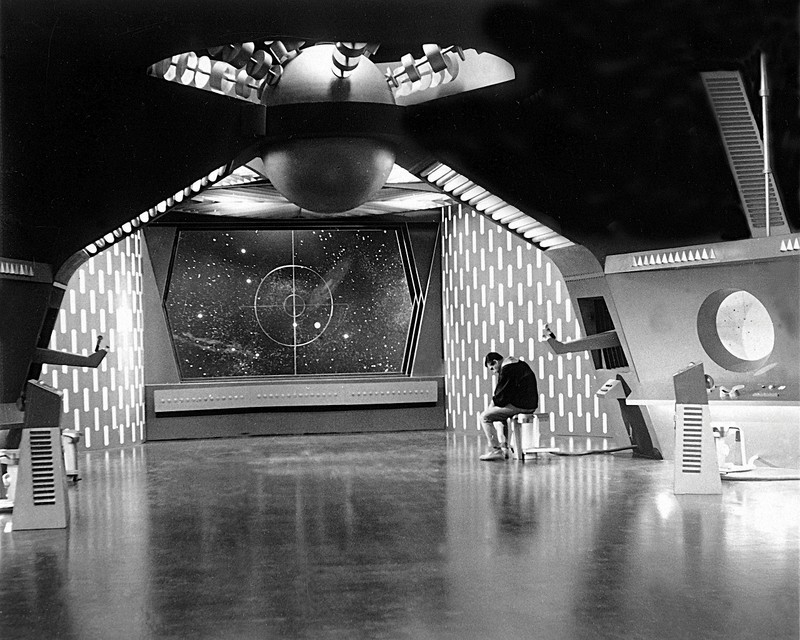 Jindrich Polák
Ikarie XB-1 [Voyage to the End of the Universe], 1963 (still)
Courtesy the National Film Archive, Prague
REPORT ON THE CONSTRUCTION OF A SPACESHIP MODULE
Museum as Hub
22 January – 13 April 2014

For their presentation "Report on the Construction of a Spaceship Module," tranzit will transform the Fifth Floor gallery of the New Museum into the simulated interior of a spaceship.

The vessel is inspired by the spacecraft in the iconic Czech science-fiction film Ikarie XB-1 (1963), which melded postwar utopianism with Soviet utilitarianism. In its structure and design, it recalls future fantasies from the socialist Eastern European side of the Iron Curtain and explores the ideological role that outer space played during this time. On view in and around the spacecraft will be 117 artworks, including video, sculpture, print, and installation, by artists hailing primarily from cities around Eastern Europe, notably Vienna, Prague, Budapest, Bucharest, and Bratislava, all of whom tranzit has worked with previously.

"Report on the Construction of a Spaceship Module" offers an allegory of "anthropological science fiction," where the exhibition space becomes an estranged and exciting universe that dramatizes the cross-cultural translation involved in the presentation of art. The unique model evokes the challenges that contemporary artists experience in exhibiting works, or that curators come across in organizing exhibitions that stitch together diverse artworks, selected across generation, cultural context, personal narratives, and time.

This ambitious exhibition is guest curated for the New Museum by tranzit, a network of autonomous but interconnected organizations based in Austria, the Czech Republic, Hungary, Romania, and Slovakia. Much like the Museum as Hub program (the New Museum's international partnership through which the exhibition is produced), tranzit organizations actively collaborate with each other, but also work independently to produce art historical research, exhibitions, and new commissions. The work included in this exhibition—all made by artists that tranzit has worked with in some capacity or, alternately, documentation of events or exhibitions that tranzit has staged—constitutes an experimental archive of the organization's work.

PARTICIPANTS AND PARTICIPATING PROJECTS:
Anna Artaker, Babi Badalov, Zbyněk Baladrán, László Beke, Walter Benjamin, Mihuț Boșcu Kafchin, Vladimír Boudník, Ondřej Buddeus, Erick Beltrán, Derya Bengi, Igor and Ivan Buharov, Luis Camnitzer, Josef Dabernig, Curatorial Dictionary, Orshi Drozdik, Miklós Erdély, Stano Filko, Zsuzsi Flohr, János Fodor, Andreas Fogarasi, Heinz Frank, Paweł Freisler, Tomislav Gotovac, Reesa Greenberg, Ion Grigorescu, Lukáš Jasanský & Martin Polák, David Karas, Sung Hwan Kim, Tamás Király, Barbora Kleinhamplová, Július Koller, Igor Korpaczewski, Eva Koťátková, Jiří Kovanda, KWIEKULIK (Zofia Kulik/Przemysław Kwiek), Denisa Lehocká, Václav Magid, Elin Magnusson, János Major, Ján Mančuška, Piet Mondrian, Deimantas Narkevičius, Paul Neagu, Ioana Nemes, Boris Ondreička, Parallel Chronologies – An Archive of East European Exhibitions, Dan Perjovschi, Lia Perjovschi, Walter Pichler, François Piron, Łukasz Ronduda, Gábor Roskó, Hedwig Saxenhuber, Ernst Schmidt Jr., Ruti Sela, Katarina Sević, Catarina Simão, Société Réaliste, Tereza Stejskalová, Tamás St.Turba, János Sugár, Sweet Sixties: Local Modernities and Musical Turkey in the 1960s, Eszter Szakács, Avdey Ter-Oganyan, Goran Trbuljak, Florin Tudor, Zsuzsi Ujj, Mona Vătămanu, Jan Verwoert, Krzysztof Zarebski.

A specific constellation of tranzit directors worked on this exhibition: Vít Havránek, Director of tranzit in Prague, Dóra Hegyi, Director of tranzit in Budapest, and Georg Schöllhammer, Director of tranzit in Vienna. The exhibition was organized by Lauren Cornell, Curator, 2015 Triennial, Museum as Hub, and Digital Projects. In conjunction with the exhibition, the New Museum presents a publication including contributions by Cornell, tranzit, Miklós Erdéley, and Stano Filko, as well as an original science-fiction short story, extensive information on all participating artists, and a guide to the public programs. The publication will be free and available in the gallery and was edited by Taraneh Fazeli, Education Associate.

Special thanks to Věra Krejčová, Exhibition Manager and Curatorial Assistant; Ines Gebetsroither, tranzit.at Coordinator; Petr Babák and Richard Rozhoň (laboratory.cz), Graphic Design; and Eva Jiřička and Jan Vidličk, Audiovisual Production.