Simone Leigh
22 Jun - 18 Sep 2016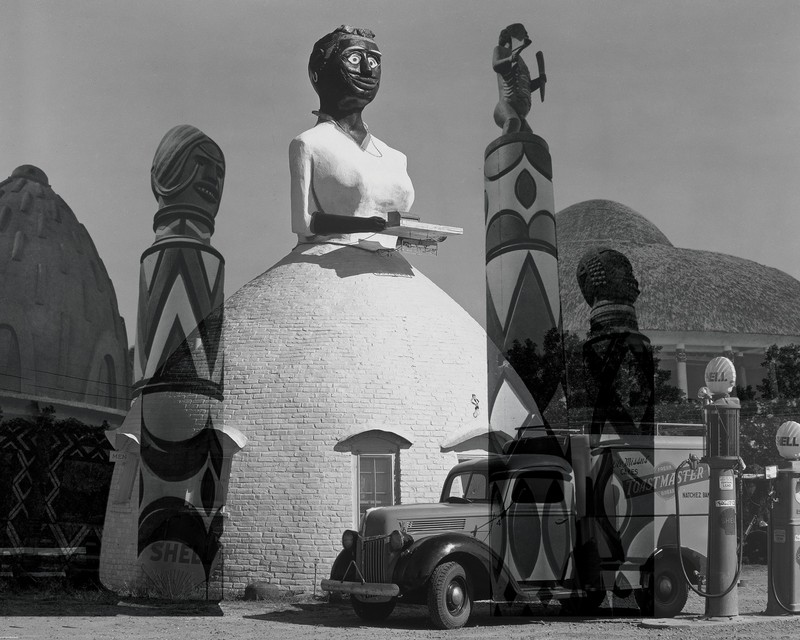 © Simone Leigh
Landscape, from the series Anatomy of Architecture, 2016
Digital collage
Courtesy the artist
SIMONE LEIGH
The Waiting Room
22 June – 18 September 2016

"Simone Leigh: The Waiting Room" will mark a new chapter in artist Simone Leigh's ongoing exploration of black subjectivities, particularly those of women.

In her work, Leigh (b. 1968, Chicago, IL) demands that the concerns, roles, and rights of women of color be recognized as central, rather than pushed to the margins. For her exhibition and residency at the New Museum, the artist considers the possibilities of disobedience, desire, and self-determination as they manifest in resistance to an imposed state of deferral and debasement. Whereas discourses of patience, pragmatism, and austerity often underscore political debates surrounding the failures of public health care and related conditions, Leigh finds inspiration in parallel histories of urgency, agency, and intervention within social movements and black communities, past and present. Troubling the notion of separate narratives, she implicates violent, institutionalized control and indifference as the conditions under which forms of self care and social care can become radical or alternative.

Focusing specifically on an expanded notion of medicine, "The Waiting Room" references a wide range of care environments and opportunities—from herbalist apothecaries and muthi [medicine] markets in Durban, South Africa, to meditation rooms and movement studios—and involves a variety of public and private workshops and healing treatments that the artist refers to as "care sessions." Blurring the distinction between bodily and spiritual health, or between wellness and happiness—and, in doing so, countering the perception of holistic care as a luxury good—Leigh has convened practitioners who view social justice as integral to their work. The project also takes into account a history of social inequalities that have necessitated community-organized care, traditionally provided by women, from the United Order of Tents, a secret society of nurses that has been active since the time of the Underground Railroad, to volunteers in the Black Panther Party's police-embattled clinics that were active from the 1960s to the 1980s. "The Waiting Room" suggests that creating a space for wellness may require both the making of a sanctuary and an act of disobedience against the systemic enactment and repudiation of black pain.

This project developed out of an earlier iteration of Leigh's socially engaged work "Free People's Medical Clinic" (2014), organized by Creative Time, which provided free treatments and workshops over the course of four weekends in the former Bedford-Stuyvesant, Brooklyn, home of Dr. Josephine English, the first black ob-gyn in the state of New York. At the New Museum, Leigh continues her involvement with professionals in the field of holistic health, while creating a new installation and a private, "underground" series of intimate, in-depth workshops and classes for community partners to take place while the Museum is closed to the public. Additionally, a series of talks, performances, and events conceptualized as medicinal dialogues on aging, disobedience, abortion, healing performances, and toxicity will be offered throughout Leigh's residency.

"The Waiting Room" inaugurates the Department of Education and Public Engagement's annual R&D Summers, a research and development residency and exhibition program that will foreground the New Museum's year-round commitment to community partnerships and to public dialogue at the intersection of art and social justice. Each R&D Summer will take the form of a residency and an exhibition.

The exhibition is curated by Johanna Burton, Keith Haring Director and Curator of Education and Public Engagement; Shaun Leonardo, Manager of School, Youth, and Community Programs; and Emily Mello, Associate Director of Education. The exhibition is accompanied by a broadsheet designed by Nontsikelelo Mutiti.

Simone Leigh was born in Chicago in 1968 and lives and works in New York. Her recent and upcoming solo presentations include "Hammer Projects: Simone Leigh," the Hammer Museum, Los Angeles (2016); "Simone Leigh: I ran to the rock to hide my face the rock cried out no hiding place," the Kansas City Art Institute (2016); "Free People's Medical Clinic," created with Creative Time (2014); "Gone South," the Atlanta Contemporary Art Center (2014); and "You Don't Know Where Her Mouth Has Been," the Kitchen, New York (2012). In 2016, Leigh received A Blade of Grass Fellowship, a John Simon Guggenheim Memorial Foundation Fellowship, and the Herb Alpert Award in the Arts. She has also received grants and awards from the Louis Comfort Tiffany Foundation, Creative Capital, the Lower Manhattan Cultural Council, the Joan Mitchell Foundation, Art Matters, and the New York Foundation for the Arts. Leigh was an artist in residence at the Studio Museum in Harlem from 2010 to 2011 and the Bronx Museum's Artist in the Marketplace (AIM) program in 2009. She was a facilitator of the International Art Programme at the Centre for Contemporary Art in Lagos, Nigeria, in 2012 and at the Àsìkò School, Dakar, Senegal, in 2013.