Helen Mirra, Allyson Strafella
16 Jan - 05 Mar 2016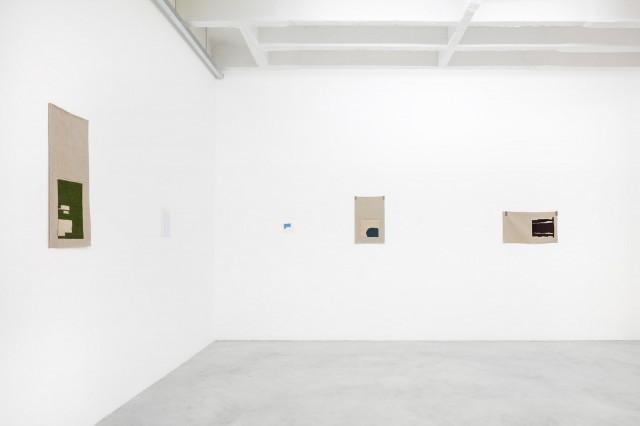 Installation view
HELEN MIRRA, ALLYSON STRAFELLA
16 January - 5 March 2016

Recent tapestry weavings made by Helen Mirra in conversation with extant drawings by Allyson Strafella.
Jüngste Webereien von Helen Mirra im Dialog mit existierenden Zeichnungen von Allyson Strafella.

HELEN MIRRA

Helen Mirra was born in Rochester, New York in 1970 and lives in Cambridge, Massachusetts. A fifteen year survey (1996-2010) of her work was presented at Culturgest in Lisbon, Portugal in 2014.
Recent solo exhibitions include Hourly Directional at Radcliffe Center for Advanced Study and with Ernst Karel at the MIT List Visual Arts Center (both Cambridge MA); and gehend (Field Recordings 1-3), which was held at three venues: Haus Konstruktiv, Zurich, KW Institute for Contemporary Art, Berlin, and Bonner Kunstverein. Other solo institutional exhibitions include The Renaissance Society at the University of Chicago and the Berkeley Art Museum. This year she participated Havana Biennial with a month-long walking project there. She has also participated in the 50th Venice Biennial (2003) and the 30th Sao Paulo Biennial (2012). Recent publications are the book gehend (argobooks, 2013), the three-ring binder Edge Habitat Materials (Whitewalls, 2014), the CD Maps of Parallels 41 N and 49 N with Ernst Karel (Shhpuma, 2014), and the LP Kwangsi-Quail with Fred Frith (Shhpuma, 2015). Mirra has been awarded various fellowships and residencies, including the DAAD in Berlin, OCA in Oslo, and IASPIS in Stockholm.

ALLYSON STRAFELLA

Allyson Strafella was born in Brooklyn, New York in 1969 and lives/works in Hudson, NY. She has been drawing with a typewriter for over 20 years and has developed a drawing language of her own using a typewriter. Repetitive punctuation marks build densely concentrated forms that derive from natural and constructed forms. Strafella built a custom typewriter allowing her to work on a larger scale with custom marks. Her work has been exhibited internationally and is in the collection of the Metropolitan Museum of Art, New York; the Museum of Modern Art, New York; the Fogg Art Museum, Havard University, Cambridge, MA; the Hammer Museum, Los Angeles, among other private and public collections. Her work was recently on view at the Perez Art Museum, Miami, FL(2014); the Columbus Museum, Columbus, GA (2014); the Hafnarfjörður Center of Culture and Fine Art, Hafnarfjörður, Iceland (2013) and the Mildred Lane Kemper Art Museum, Washington University, St. Louis, MO (2012). Strafella has been awarded various residencies and fellowships, including at Skowhegan School of Art, Skowhegan, ME; Yaddo, Saratoga Springs, NY; and MacDowell Colony, Peterborough, NH. Furthermore she is a Guggenheim fellow and a Pollock-Krasner Foundation recipient.