Calder 1941
21 Oct - 23 Dec 2011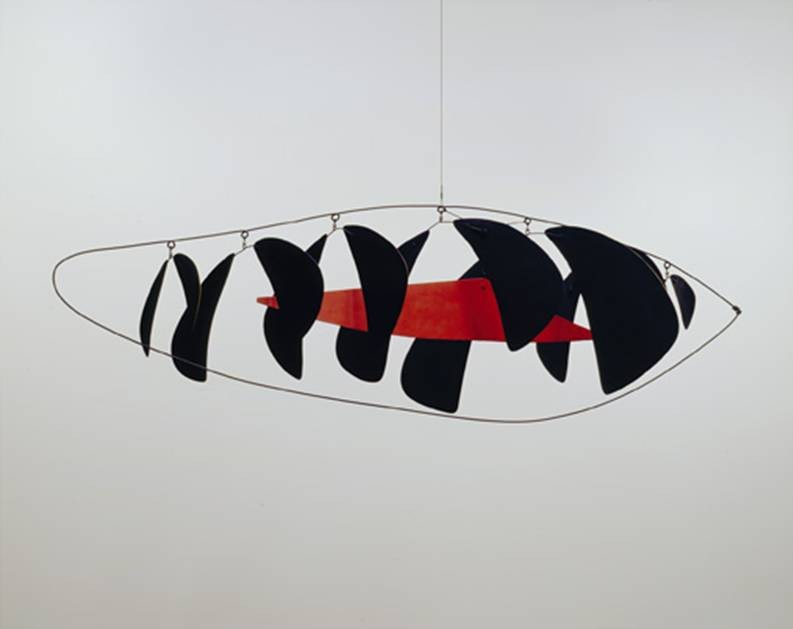 Alexander Calder
Untitled, 1941
sheet metal, wire, and paint
12" x 40" x 21 3/4" (30.5 cm x 101.6 cm x 55.2 cm)
© 2011 Calder Foundation, New York/Artists Rights Society (ARS), New York
CALDER 1941
21 October - 23 December, 2011

The Pace Gallery, in collaboration with the Calder Foundation, is honored to present Calder 1941, an exhibition focusing on a seminal year in Alexander Calder's career and the apotheosis of a decade of experimentation following his invention of the mobile in 1931. Calder 1941 will be on view at 32 East 57th Street, New York, from October 21 through December 23, 2011. The public is invited to attend an exhibition preview on Thursday, October 20, from 6 to 8 p.m.

The exhibition will be accompanied by a catalogue with an essay by Calder scholar Jessica Holmes and a series of 1941 photographs of the artist's Roxbury, Connecticut studio by celebrated photographer Herbert Matter, which capture many of the works on view.

Calder 1941 presents fifteen mobiles and standing mobiles made primarily from sheet metal, wire, and paint, many of which have not been on public view for decades. The year of 1941 has been identified by scholars and contemporaries alike as a significant moment in Calder's oeuvre when the artist began working with a newfound confidence and deftness as he synthesized the vocabulary of kinetic objects, systems of weights and balances, a new monumentality of scale, and an array of nontraditional materials with which he had experimented over the preceding decade. Calder's output from 1941 also represents the zenith of his works in aluminum, which he reduced his use of following America's entry into World War II.

In his 1951 monograph, James Johnson Sweeney, who organized a major retrospective of Calder's work at the Museum of Modern Art, observed a departure in Calder's construction, from the "overpowering, grim, sharp-angled forms of 1940" to 1941, when "we see a turn from these massive, somewhat ominous conceptions to gayer expressions with a recall of color and of slender forms . . . A new means to organize three-dimensional space was the search to which Calder as a sculptor was always returning."

During this period Calder perfected an effect of anti-gravity created by a system of weights and balances that allowed heavy elements to seemingly float in the air, while simultaneously experimenting with the use of heavy attached elements to force an arc in an otherwise straight rod. The masterpiece Vertical Foliage features Calder's cascade technique, conjuring up images of dense leaves but rendered in monochrome black. The exhibition also includes a light-reflecting mobile made of unpainted aluminum that cascades downward, allowing light to "paint" the unvarnished metal elements, as Holmes notes in her catalogue essay.

Boomerangs (1941) is one of a small number of mobiles from the era in which Calder used hand-made "chain-link" connectors to attach elements to their hanging rods. The artist's use of chain-links was rare, and can be found in only one or two other examples, including his 1939 commissioned mobile for the Museum of Modern Art, Lobster Trap and Fish Tail. "When seen from below, the chains seem to have almost a disappearing effect, leaving the viewer with the impression that the elements themselves are hovering in space," writes Holmes. "The three yellow boomerang forms thrust out from the center of gravity, balanced by the five others . . . Calder intended for all of the elements to traverse in their orbits, occasionally clashing to make 'music'—a hanging cacophony of sound and color."

Calder 1941 will also feature the first public presentation in New York of the monumental standing mobile Tree in its complete form since the Museum of Modern Art retrospective in 1943. The gallery exhibition reunites the two pieces that comprise Tree, a trunk-like stabile (the term coined by Jean Arp for Calder's static sculptures) and the delicate mobile that suspends from its branch, which had been separated for decades.

Throughout his lifetime, Calder combined materials with a deft confidence and creativity, finding value in ordinary objects. This combination of humble materials reached an apex in 1941 with the sculpture Myrtle Burl, a knobby tumor from the base of a myrtle tree into which Calder speared multi-colored flags of wire and sheet metal to create a bizarre and spectacular Surrealist object. Another standing mobile in the exhibition is made from brass wire and string, and one of the leaves in Vertical Foliage is cut from a license plate.

The Pace Gallery has presented eleven exhibitions of Calder's work since 1971. Calder 1941 is the first in a series of historical exhibitions focusing on key moments in Calder's career that Pace will present in New York, Beijing and London. A re-creation of the 1946 exhibition Mobiles, Stabiles, Constellations at Galerie Louis Carré will inaugurate Pace's Mayfair gallery in London, opening in 2012.

Alexander Calder (1898–1976) is one of the most acclaimed and influential sculptors of the twentieth century. Renowned for his invention of the mobile, a kinetic construction of suspended abstract elements that describe individual movements in changing harmony, Calder also devoted himself to making outdoor sculpture on a grand scale from bolted sheets of steel, many of which stand in public plazas in cities throughout the world. Calder's wide body of work includes paintings, drawings, prints, book illustrations, jewelry, tapestries, and costumes and set designs for ballets and theatrical productions.

Born in Pennsylvania to a family of artists, Calder received an engineering degree from Stevens Institute of Technology in 1919 and moved to New York to enroll at the Art Students League in 1923. In 1926 he traveled to Paris, where he would periodically live and work until 1933, and where he designed the first pieces of his miniature Cirque Calder (1926–31). After visiting Piet Mondrian's studio in 1930, Calder began experimenting with abstract constructions, exhibiting his first non-objective works in 1931. The following year he showed hand-cranked and motorized mobiles, marking the beginning of his development as a leading exponent of Kinetic art. Calder remained committed to abstraction during the 1930s and introduced biomorphic forms into his kinetic sculptures, synthesizing Constructivist methods and materials with abstract forms that recall Surrealist imagery. In subsequent years he refined his wind-driven mobiles, producing elegant, space-encompassing abstractions of gracefully bending wires. In the 1950s he began producing large numbers of stabiles—large-scale constructions made from cut and painted metal sheets—and simultaneously explored new forms such as Towers (wall-based wire constructions with moving elements) and Gongs (sound-producing metal pieces). During the 1960s and 1970s Calder created colossal stabiles for public sites around the world, installing works of 45 feet and higher in many American and European cities.

Alexander Calder has been the subject of dozens of exhibitions at museums worldwide, including retrospectives at the Museum of Modern Art (1943), Solomon R. Guggenheim Museum (1964), Whitney Museum of American Art (1976), and National Gallery of Art, Washington, D.C. (1998), as well as major exhibitions at museums including Museo Guggenheim Bilbao; The Art Institute of Chicago; the Centre Pompidou, Musée national d'Art Moderne, Paris; The Detroit Institute of Art; Foundation Beyeler, Riehen, Switzerland; Kunsthalle Basel; The Menil Collection, Houston; Metropolitan Museum of Art, New York; Museum of Contemporary Art, Chicago; Museum of Fine Arts, Houston; The Phillips Collection, Washington, D.C.; San Francisco Museum of Modern Art; Stedelijk Museum, Amsterdam; and Walker Art Center, Minneapolis. In 2011 his monumental standing mobile Horizontal (1974) was permanently installed in front of the Centre Pompidou in Paris.

Calder's work is in the collection of nearly every major public art institution in the United States and abroad. The artist has been represented by The Pace Gallery since 1984.