Carsten Nicolai
21 May - 25 Jun 2010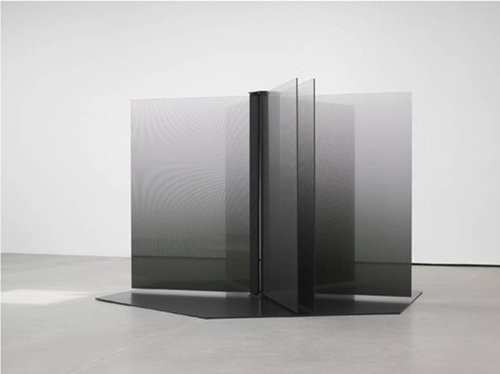 © Carsten Nicolai
moiré glass, 2010
six printed glass plates and steel
81-5/8" x 11' 2-5/8" x 9' 8-5/8"(207.3 cm x 341.9 cm x 296.2 cm)
CARSTEN NICOLAI
"moiré"
May 21, 2010 - Jun 25, 2010
The Pace Gallery is pleased to present a selection of dynamic large-scale installations, sculptural works, and drawings from 2010 by Carsten Nicolai in the artist's second exhibition at the gallery. carsten nicolai: moiré will be on view at 534 West 25th Street from May 21 through June 25, 2010. The artist will be present at an opening reception on May 20th from 6-8 p.m.
alva noto . unitxt, a performance by the artist created exclusively in conjunction with the exhibition will be held at The Kitchen (512 West 19th Street) on Tuesday, May 18th at 8 p.m. Doors open at 7:30 p.m. For information about purchasing tickets, please call 212.255.5793 or visit
www.thekitchen.org
.
Carsten Nicolai has been working at the intersection of art and science since the early 1990s, creating complex, interdisciplinary works which push the boundaries of human perception. This show explores the moiré effect in motion- and light-activated large-scale installations, sculptural works, and drawings. The exhibition precedes the release of the artist's new book, moiré index, to be published by gestalten this August. moiré index, a visualization of data based upon years of research, is a fundamental and integral part of the show.
The word "moiré" refers to visual interference patterns, which are created when two or more layers of simple dot, line, or grid structures overlap, producing an additional pattern on top of the original layers. Often an unwanted side-effect in printing processes, Nicolai uses the moiré effect to emphasize its potential on both a scientific and artistic level. The artist explains:
The moiré phenomenon stimulates essential questions about how human perception affects our understanding of the world: Do we perceive reality (through seeing, hearing, feeling, etc.) as it is really constituted, or do we misinterpret it by adding or subtracting crucial elements which consequently change it? The optical effects of moiré suggest that overlapping grids work similar to an optical lens, generating distortions or magnifications which make two-dimensional structures bear three-dimensional impressions.
As with many of Nicolai's works, moiré glass engages in an interactive creative process with the viewer; as he or she rotates the five silk-screened glass plates, attached vertically to a central column, the overlapping patterns produce a variety of optical illusions. With moiré rota, the artist creates light moirés using LED lights suspended from cable strings and attached to two rotating columns. A third installation, moire schatten, will transform a wall into a convex membrane box which fills and empties with air, spinning black satin strings and producing moiré patterns where the strings and the shadows that they cast overlap.
Other works on view in this exhibition include moiré tape, in which the moiré effect is produced by two radial gratings of magnetic tape, superimposed onto each other on the gallery wall, and moiré film, where moving black-and-white line and dot patterns will create changing visual impressions while emitting sounds composed from an audio analysis of the moiré phenomena. The exhibition will also feature drawings of moiré patterns created by hand.
This exhibition coincides with Carsten Nicolai: autoR, a major installation on the façade of the Temporäre Kunsthalle on Schlossplatz in Berlin through August 2010. The three-part project involves first wrapping the museum in a white PVC skin and then inviting visitors to apply approximately 100,000 stickers onto the white background. The ever-changing facade will be shaped by the interplay between the initial conditions established by the artist and the visitors' responses, dealing with the proliferation of logos as it relates to the replication process of viruses. Another installation by Nicolai, anti-reflex, is currently on view at La Casa Encendida in the first ever "SOUnd ART" exhibition in Madrid (through June 6, 2010). The Museum der Bildenden Künste in Leipzig, Germany, recently presented carsten nicolai: rota from February 25 through May 2, 2010.
From December 23, 2009 through January 30th, 2010, a major public project by the artist, entitled Pioneer II, was installed in the Piazza Plebiscito in Naples, Italy. The work was part of a public space project in two parts at the Museo d'Arte Contemporanea Donna Regina and the Piazza Plebiscito, respectively (both in Naples). In Pioneer II, helium balloons fixed to the ground via strong wire swayed in the wind blowing over the piazza from 5pm to midnight each night, illuminated against the night sky. Sounds emanated throughout the piazza from several loudspeakers, which were generated by the transfer of seismic movements caused by Mount Vesuvius. Carsten Nicolai's work is included in numerous important public collections, and has been featured in more than 70 solo exhibitions worldwide since 1987.
Carsten Nicolai (a.k.a. noto, alva noto) currently lives and works in Berlin. Born in 1965 in Karl-Marx-Stadt (Chemnitz) Germany, he studied landscape design from 1985-1990 in Dresden. In 1992 he co-founded the Voxxx.Culture and Communication center, in Chemnitz (Voxxx.Kultur und Kommunikationxzentrum). Nicolai began gaining notoriety in the music community in 1994 when he founded noton.archiv fuer ton und nichtton as a platform for conceptual and experimental related projects in music, art and science. Nicolai frequently performs his music under the pseudonyms noto or alva noto. His music combines video projection with sonic abstraction and minimialistic, post-techno mixing. In 1999, Nicolai fused the company he founded, noton, with rastermusic which was founded by Olaf Bender and Frank Bretschneider to form raster-noton.archiv für ton und nichtton.
In 2007 Nicolai became the first artist ever to receive the newly created Zurich Prize from Haus Konstruktiv. The same year, he was the Visiting Artist for Deutsche Akademie Rome at Villa Massimo in Italy. In 2004, Nicolai was the Artist in Residence at the Villa Aurora in Los Angeles. The artist's many accolades also include the Prix Ars Electronica Golden Nica Award for Interactive Art in 2001 for "Polar", an installation created in collaboration with Marko Peljhan, as well as the Digital Music award for his "20 to 2000 project" in Linz Austria in 2000. In 2000 he was honored with the Philip Morris Graphic Award in Dresden, Germany, and in 1990 he received the Jürgen Ponto prize, Frankfurt.