Carsten Nicolai
23 Sep - 22 Oct 2011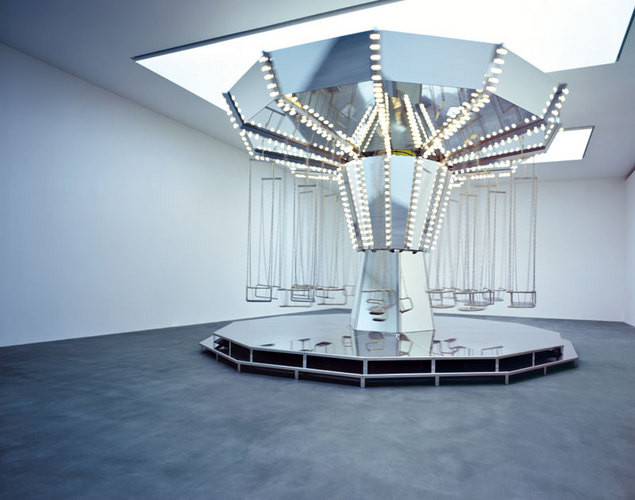 © Carsten Nicolai
pionier I, 2011
parachute, wind machine, sound proof paneling
installation dimensions variable, site specific
CARSTEN NICOLAI
pionier
23 September - 22 October, 2011
The Pace Gallery is pleased to present pionier, an exhibition of work by Carsten Nicolai, on view at 545 West 22nd Street from September 23 through October 22, 2011. The exhibition title, the German word for "pioneer," refers to the experimental nature of Nicolai's work, which investigates perception and phenomenological experience. Operating on the borders of art and science, his exhibitions resemble scientific laboratories where calculations and tests are performed to make phenomena usually inaccessible to human senses visible.
A public reception for the artist will be held on September 22 from 6 to 8 p.m. Nicolai, who performs electronic music under the pseudonyms noto and alva noto, will D.J. at Santos Party House on September 23.
The exhibition will feature the U.S. debut of pionier I, an installation consisting of a large parachute inflated by a wind machine for specific increments of time. The resulting interaction between states of stability and instability serves as a metaphor for the ambiguous and discontinuous interplay between natural elements and artificially produced objects. In exposing the underlying mechanisms of natural phenomena, Nicolai sensitizes the viewer to both the invisible laws that govern physical existence and the vast, unknowable mystery of nature. In the wall-sized installation raster gradient, a black-and-white gradient is silkscreened onto posters and combined as wallpaper to create a work that optically expands and contracts the space of the gallery.
pionier I and raster gradient were first presented in Spring 2011 as part of a solo exhibition of Nicolai's work at the Contemporary Art Centre (CAC), Vilnius, Lithuania.
Carsten Nicolai (b. 1965 in Karl-Marx-Stadt (Chemnitz), Germany) is one of the only contemporary artists working simultaneously in visual and sonic media. Nicolai studied landscape design from 1985 to 1990 in Dresden and in 1992 he cofounded the Voxxx.Culture and Communication Center in Chemnitz (Voxxx.Kultur und Kommunikationszentrum).
Nicolai has been the subject of more than fifty international solo exhibitions since 1987 at institutions including the the Städtische Kunstsammlungen Chemnitz, Germany (1993); the Konstmuseum Ystad, Ystad, Sweden (2000); Watari Museum of Contemporary Art, Tokyo, Japan (2002); Schirn Kunsthalle Frankfurt, Germany (2005); Neue Nationalgalerie, Berlin, Germany (2005); Stedelijik Museum voor Actuele Kunst (S.M.A.K.), Gent, Belgium (2006); and Yamaguchi Center for Arts and Media, Japan (2006 and 2011). In 2007 Haus Konstruktiv in Zürich installed the first major solo exhibition of Nicolai's work in Switzerland, featuring works designed specifically for the museum and accompanied by a substantial catalogue published by JRP|Ringier. Nicolai has taken part in international exhibitions including documenta X, Kassel, Germany (1993), and the Venice Bienniale (2001, 2003). He has performed at major institutions including the Guggenheim Museum, New York (2000); San Francisco Museum of Modern Art (2001); Sydney Opera House, Australia (2001); Tate Modern, London (2006); Reina Sofia, Madrid (2007); and the Kitchen, New York (2006 and 2010).
Nicolai's work is held in major international collections including the Rubell Family Art Collection, Miami; the Thyssen-Bornemisza Collection, Lugano-Castagnola, Spain; Museum der bildenden Künste Leipzig, Germany; Klingspor Museum Offenback, Germany; the Victor Pinchuk Foundation, Kiev, Ukraine; Städtische Kunstsammlungen, Chemnitz; and Stedelijk Museum voor Actuele Kunst (S.M.A.K.), Gent, Belgium.
The artist has been awarded numerous prizes and scholarships, beginning with the Jürgen Ponto prize, Frankfurt in 1990. In 2000 he received the Philip Morris Graphic Award in Dresden, Germany. He has twice been awarded to the Prix Ars Electronica Golden Nica Award, receiving the Award for Digital Music in 2000 and the Award for Interactive Art in 2001. Nicolai was the 2004 Artist in Residence at the Villa Aurora in Los Angeles and the 2007 Visiting Artist for Deutsche Akademie Rome at Villa Massimo in Italy. In 2007 he was the first artist ever to receive the newly created Zurich Prize from Haus Konstruktiv.
Nicolai first gained notoriety in the music community in 1994 when he founded noton.archiv für ton und nichtton as a platform for conceptual and experimental projects in music, art, and science. Nicolai's music combines video projection with sonic abstraction and minimalistic, post-techno mixing. In 1999, Nicolai fused the company he founded, noton, with rastermusic, founded by Olaf Bender and Frank Bretschneider, to form raster-noton.archiv für ton und nichtton.
Carsten Nicolai's visual work is presented on
http://www.carstennicolai.de/
and his musical work can be found on
http://www.alvanoto.com/
.
Carsten Nicolai lives and works in Berlin. pionier is Nicolai's third exhibition at The Pace Gallery.