Ryan Gander
28 Sep 2012 - 07 Jan 2013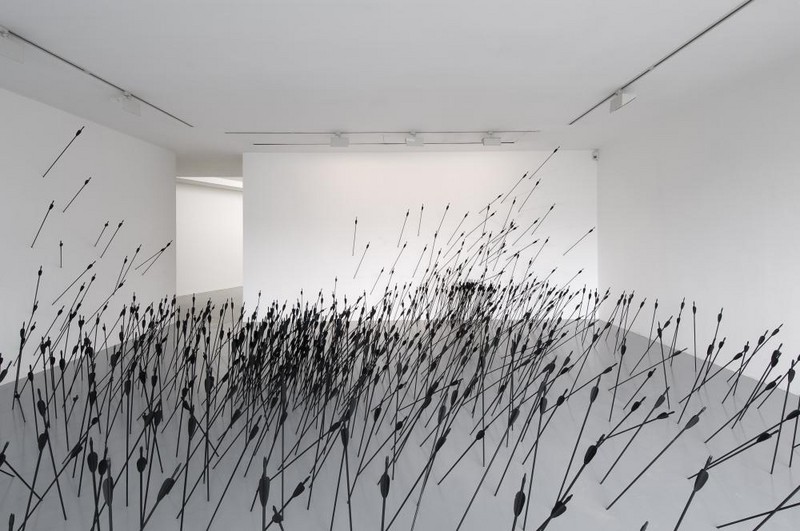 © Ryan Gander
'Ftt, Ft, Ftt, Ftt, Ffttt, Ftt, or somewhere between a modern representation of how a contemporary gesture came into being, an illustration of the physicality of an argument between Theo and Piet regarding the dynamic aspect of the diagonal line and attempting to produce a chroma-key set for a hundred cinematic scenes', 2010
Courtesy the artist and Ishikawa Collection, Okayama, Japan. Photographer Ken Adlard.
RYAN GANDER
Esperluette
28 September 2012 – 7 January 2013

THE PRINCIPLE OF ARTISTS' LIBRARIES
"Bibliothèques d'artiste" are a recurring program at the Palais de Tokyo which every three months invites an artist to display the implicit connections in his/her mental universe. "One of the best ways of recreating a man's thinking it to reconstruct his library," Marguerite Yourcenar wrote in the "notebooks" of the Memoirs of Hadrian. Retracing the paths followed by an artist's thinking, discovering his/her sensibility, his/her universe, being really close to the creative act, that is what is at stake. That imaginary library – the artist's mental landscape – is a field of forms that inhabits him/her, a space existing only through and in his/her mind, and being materialized here through a visible offering. This library affords a unique access to the manufacture of creative thought, enabling visitors to discover, from the inside, the turbulent worlds that are at work in artists.

INTERLINKING, PUTTING INTO A SERIES
Ryan Gander (b. 1976), plays with the processes of interlinking and putting into a series to explore the relations established between reality and fiction in his works. Constructing its discourse around appropriation and representation, the art of Ryan Gander critically revisits the history of art and design. Like his proposal for the Palais de Tokyo, the photographs, films, installations and sculptures of Ryan Gander question the various creative processes and their manifestations. The last work he produced at the 13th Documenta in Kassel was unanimously acclaimed.

MENTAL LANDSCAPE
Esperluette by Ryan Gander inaugurates the Bibliothèques d'artiste program. The title of this exhibition designates the logogram "&", a ligatured way of writing the coordinating conjunction "and". This expression interlinks several concepts into a single relationship, a fundamental principle in the artist's work. The central installation, Ampersand (the English word for "esperluette"), is presented as a giant white cube, closed and impenetrable. Only a small opening permits the visitor to stealthily observe the scrolling of a series of objects on a conveyor belt and "envisage their significance, be it cultural, historical, financial, or personal". These objects from everyday life, ordinary and insignificant, are taken from Ryan Gander's collection. A total of more than 60 elements are presented, like fireplace bricks and roof tiles, japanese table setting, a survival kit and a mushroom knife.

A SEEING MACHINE
This slide show of objects – a real window open on to the artist's mental landscape – invites the viewer to reconstruct this "curious collection of things". Metamorphosed in this way, as a new setting these objects now have a stage, a real seeing machine, where all rapprochements can be envisaged. Cinematographic experience seems to underlie the setting up of this installation. Every object is a shot whose effect depends on its relative position in the sequence. Each sequence in turn unfolds like an episode in a story running non-stop. Movements, scrollings, changes of viewpoint: all the tricks of editing and staging are thus brought into play. Thanks to this device, the objects are now no more than forms, images, (co)existing in a shared presence.

THE SPECTATOR'S MIRROR
The works in the exhibition are based on a system with multiple references, a puzzle. The artist is fond of the association of ideas, as in the cycle of lectureperformances he has been developing since 2002, entitled Loose Associations. The sound installation, the self-service posters, and the central installation are the fragments of a framed story. Behind this reading on several levels a huge set of clues to be deciphered is hidden, encouraging visitors to make their own connections, invent their own story, solve the riddle – with no solution – set by the artist.

SOME OF THE OBJECTS IN THE CENTRAL AMPERSAND INSTALLATION
A4 Paper, Albers Fire Bricks and French Roof Tiles, An Amazon Box, Aubette Ashtray, Black Drawn Curtain, Bread, Dunwich Air, Firework, Jobs' Keyboard, Leica M9, Palais de Tokyo Ruin, Sale T-shirt, Seeds, Scarf, Security Mirror, Smoked Vodka, Sol's Pussy, Sound Effect Props, Spray Paint, Stab Vest, Survival Kit, etc.